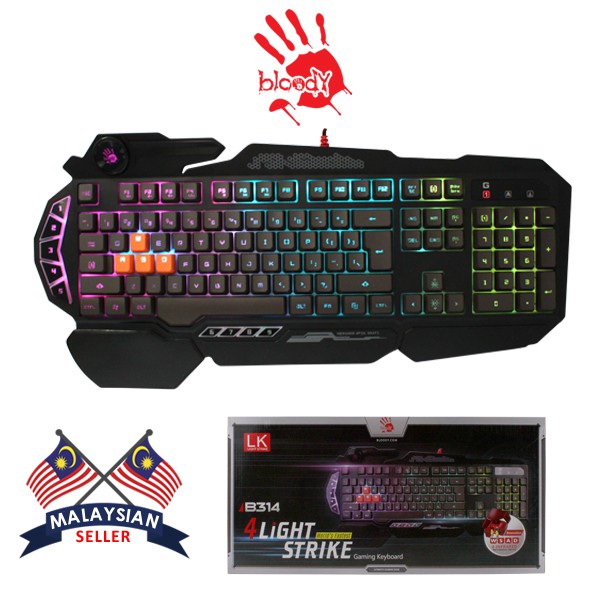 Size (length*width*height): 25cm x 5cm x 51cm
Connectivity Technology: USB
Warranty Period: 1 year
Wireless: No
Warranty Type: Local Manufacturer Warranty
Bloody Light Strike provides you a Swifter response speed of over 0.2MS faster than other Gaming Brands.
4 Light Strike keys Gaming Keyboard, Bloody 4 Light Strike Mechanical Switches (Infrared Optic Switches) - Fastest Response Mechanical Gaming Keyboard, During gamer battles, the response speed is number 1! Light Strike Mechanical gaming keyboard delivers a fast response of 0.2MS, faster than all the other competitions, this may take some time to get used to, Gaming to fast sometimes you need to catch up with the Gaming Gear.
To the Hardcore Gamer, Fantastic Durability is a must, To avoid in Game delays or even Gaming, A, S, D, W Silicon keys - convex and silicon material for greater control during your gaming events or just casually gaming.
Gamer Love to play in the dark, or to just have Special lighting with their Gaming Equipment, Neon Glare System LED Back Lighting, Gaming Keyboard LED lighting provides an easier way to locate the keys in the dark, or dim lit rooms.
9 Programmable Keys - Customize your favorite game with 9 individually programmable keys.
Bloody B314 features a Double Secure Water-Resistance, electronically sealed with a water drain hole to make sure it does not affect your keyboard's lifespan.
Created for the Gamer, Bloody Light Strike Mechanical Switches - Fastest Response Mechanical Gaming Keyboard
#Bloody #GamingGear #Keyboard
| Zone | Weight | Delivery Fee (RM) |
| --- | --- | --- |
| West Malaysia | First 1.00 kg | 4.80 |
| | Extra 1.00 kg | 2.00 |
| East Malaysia | First 1.00 kg | 13.00 |
| | Extra 1.00 kg | 9.00 |
| Austria, Denmark, Finland,Mexico,Ireland, Switzerland | First 0.50 kg | 58.82 |
| | Extra 1.00 kg | 40.91 |
| Brunei, Cambodia, Laos | Extra 1.00 kg | 51.98 |
| Belgium,France, Germany, Netherlands, Spain, U.K | First 0.50 kg | 64.19 |
| | Extra 1.00 kg | 36.71 |
| China | First 0.50 kg | 42.18 |
| | Extra 1.00 kg | 33.78 |
| Bangladesh,Brazil,Iraq, Pakistan,Qatar, Russia, S.Arabia, UAE | First 0.50 kg | 59.32 |
| | Extra 1.00 kg | 43.21 |
| Ghana, Mongolia,South Africa | First 0.50 kg | 70.68 |
| | Extra 1.00 kg | 61.37 |
| Philippines | First 0.50 kg | 44.79 |
| | Extra 1.00 kg | 33.86 |
| Canada, United States | First 0.50 kg | 60.55 |
| | Extra 1.00 kg | 43.09 |
| Hong Kong | First 0.50 kg | 31.95 |
| | Extra 1.00 kg | 28.42 |
| India | First 0.50 kg | 51.01 |
| | Extra 1.00 kg | 40.15 |
| Indonesia | First 0.50 kg | 51.38 |
| | Extra 1.00 kg | 42.37 |
| Japan | First 0.50 kg | 45.74 |
| | Extra 1.00 kg | 39.48 |
| Macau | First 0.50 kg | 55.46 |
| | Extra 1.00 kg | 38.50 |
| Singapore | First 0.50 kg | 32.83 |
| | Extra 1.00 kg | 26.99 |
| Taiwan | First 0.50 kg | 36.17 |
| | Extra 1.00 kg | 33.20 |
| Thailand | First 0.50 kg | 39.41 |
| | Extra 1.00 kg | 31.73 |
| Vietnam | First 0.50 kg | 60.55 |
| | Extra 1.00 kg | 39.82 |
| INT | First 0.50 kg | 48.56 |
| | Extra 1.00 kg | 40.10 |