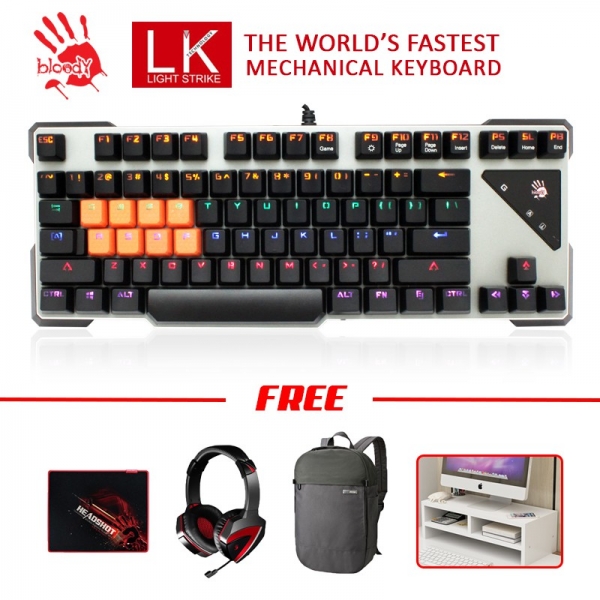 Size (length*width*height): 54cm x 25cm x 30cm
Connectivity Technology: USB
Warranty Period: 1 year
Wireless: No
Warranty Type: Local Manufacturer Warranty
Light Strike Mechanical Gaming Keyboard
Wold's FIRST Lightning Speed Mechanical Switch
Innovative LK optical switch technology uses optical detection that remove all input lag which is able to obtain zero digital latency reacting with a speed of 0.2ms key response.
The BLOODY keyboard are characterised by a unique design; they are manufactured with highest precision and with the use of state-of-the-art technologies.
To the Hardcore Gamers, Fantastic Durability is a must, To avoid in Game delays or even Gaming,
 - convex and silicon material for greater control during your gaming events or just casually gaming.
Gamers Love to play in the dark, or to just have Special lighting with their Gaming Equipment, 
, Gaming Keyboard LED lighting provides an easier way to locate the keys in the dark, or dim lit rooms.
During Hard Game Play you often love to grab a drink while you game, The Spill Proof Design allows you to safely play and forget about the accidental spills during the heat of gaming. Easy to clean up, and easy to main, with B700 Spill proof design.
Dual Mode - Game Mode or Normal Mode settings, With Fastest great Response speed comes great responsibilities, =) Created for the Gamers, Bloody Light Strike Mechanical Switches - Fastest Response Mechanical Gaming Keyboard
Free Gift include:
🎁1 x Gaming Mouse Pad
🎁1 x Gaming Headphone
🎁1 x Laptop Backpack
🎁1 x Desktop Monitor Stand Riser
#Bloody #gamingkeyboard #gaminggear #gamingset #gamingmouse #A4TechBloody #bloodygaming
| Zone | Weight | Delivery Fee (RM) |
| --- | --- | --- |
| West Malaysia | First 1.00 kg | 4.80 |
| | Extra 1.00 kg | 2.00 |
| East Malaysia | First 1.00 kg | 13.00 |
| | Extra 1.00 kg | 9.00 |
| Austria, Denmark, Finland,Mexico,Ireland, Switzerland | First 0.50 kg | 58.82 |
| | Extra 1.00 kg | 40.91 |
| Brunei, Cambodia, Laos | Extra 1.00 kg | 51.98 |
| Belgium,France, Germany, Netherlands, Spain, U.K | First 0.50 kg | 64.19 |
| | Extra 1.00 kg | 36.71 |
| China | First 0.50 kg | 42.18 |
| | Extra 1.00 kg | 33.78 |
| Bangladesh,Brazil,Iraq, Pakistan,Qatar, Russia, S.Arabia, UAE | First 0.50 kg | 59.32 |
| | Extra 1.00 kg | 43.21 |
| Ghana, Mongolia,South Africa | First 0.50 kg | 70.68 |
| | Extra 1.00 kg | 61.37 |
| Philippines | First 0.50 kg | 44.79 |
| | Extra 1.00 kg | 33.86 |
| Canada, United States | First 0.50 kg | 60.55 |
| | Extra 1.00 kg | 43.09 |
| Hong Kong | First 0.50 kg | 31.95 |
| | Extra 1.00 kg | 28.42 |
| India | First 0.50 kg | 51.01 |
| | Extra 1.00 kg | 40.15 |
| Indonesia | First 0.50 kg | 51.38 |
| | Extra 1.00 kg | 42.37 |
| Japan | First 0.50 kg | 45.74 |
| | Extra 1.00 kg | 39.48 |
| Macau | First 0.50 kg | 55.46 |
| | Extra 1.00 kg | 38.50 |
| Singapore | First 0.50 kg | 32.83 |
| | Extra 1.00 kg | 26.99 |
| Taiwan | First 0.50 kg | 36.17 |
| | Extra 1.00 kg | 33.20 |
| Thailand | First 0.50 kg | 39.41 |
| | Extra 1.00 kg | 31.73 |
| Vietnam | First 0.50 kg | 60.55 |
| | Extra 1.00 kg | 39.82 |
| INT | First 0.50 kg | 48.56 |
| | Extra 1.00 kg | 40.10 |