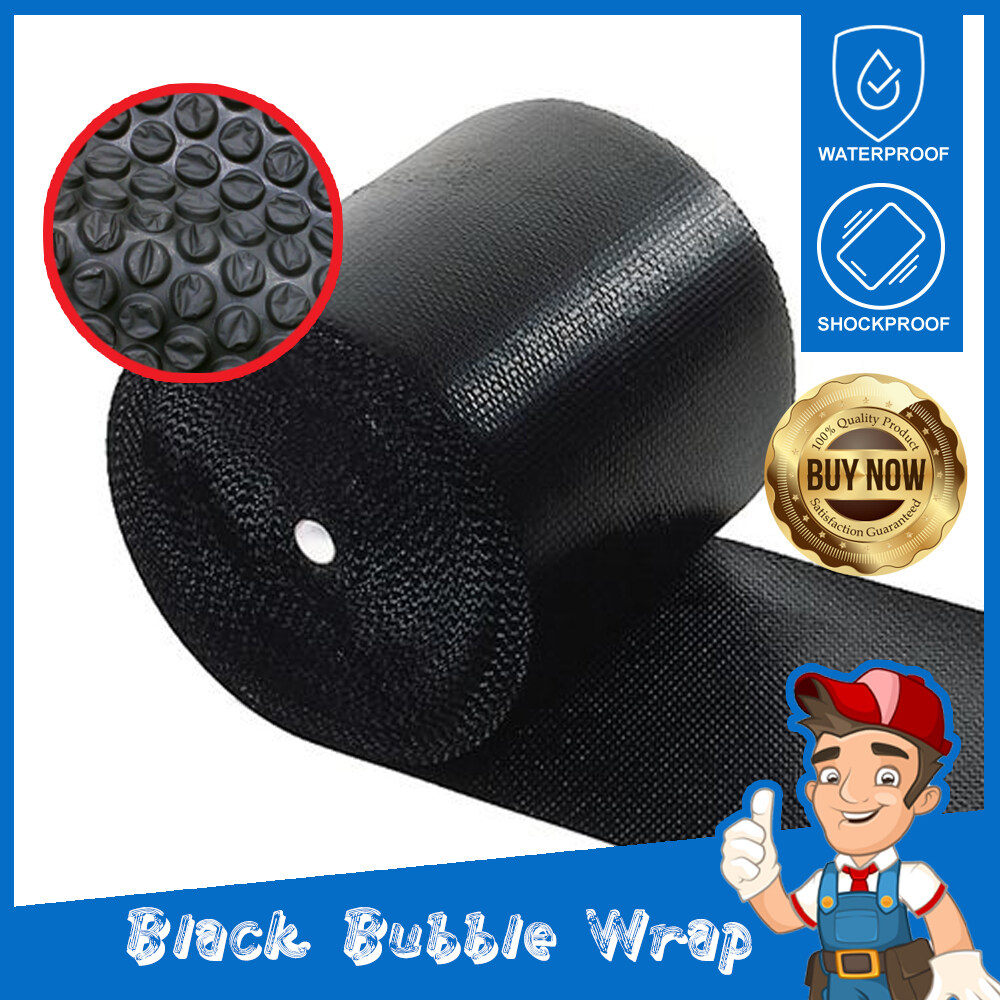 Black Air Bubble Wrap Packing Wrap Single Layer
<< PRODUCT INFORMATION >>
- Conforms easily around delicate and valuable items during moving, mailing and storage.
- This Bubble Cushioning Wrap Roll acts as added protection and cushioning by cradling your products and absorbing any shock, vibration, scratches and dings.
- Protection for your fragile / delicate items such as dishes, collectibles, glass.
- It could also be used for wrapping furniture edges (corners & legs) to prevent scratches during moving / shipping.
- Safe for protecting electronics and small appliances as well.
<< SPECIFICATION >>
- Size : 50cm x 46 meter
- Bubble Round Size : 10mm ()
- Bubble Color : Black- Sealed Air Bubble Wrap Cushioning Material
- Made in Malaysia
| Zone | Weight | Delivery Fee (RM) |
| --- | --- | --- |
| West Malaysia | First 1.00 kg | 4.80 |
| | Extra 1.00 kg | 2.00 |
| East Malaysia | First 1.00 kg | 13.00 |
| | Extra 1.00 kg | 9.00 |
| Austria, Denmark, Finland, Ireland, Switzerland, Russia | First 0.50 kg | 58.82 |
| | Extra 1.00 kg | 40.91 |
| Brunei, Cambodia, Laos, Mongolia | Extra 1.00 kg | 51.98 |
| Belgium,France, Germany, Netherlands, Spain, U.K | First 0.50 kg | 64.19 |
| | Extra 1.00 kg | 36.71 |
| China | First 0.50 kg | 42.18 |
| | Extra 1.00 kg | 33.78 |
| Bangladesh, Brazil, Iraq, Pakistan, Qatar, S.Arabia, UAE, Sri Lanka | First 0.50 kg | 59.32 |
| | Extra 1.00 kg | 43.21 |
| South Africa | First 0.50 kg | 70.68 |
| | Extra 1.00 kg | 61.37 |
| Philippines | First 0.50 kg | 44.79 |
| | Extra 1.00 kg | 33.86 |
| Canada, United States, Mexico | First 0.50 kg | 60.55 |
| | Extra 1.00 kg | 43.09 |
| Hong Kong | First 0.50 kg | 31.95 |
| | Extra 1.00 kg | 28.42 |
| India | First 0.50 kg | 51.01 |
| | Extra 1.00 kg | 40.15 |
| Indonesia | First 0.50 kg | 51.38 |
| | Extra 1.00 kg | 42.37 |
| Japan | First 0.50 kg | 45.74 |
| | Extra 1.00 kg | 39.48 |
| Macau | First 0.50 kg | 55.46 |
| | Extra 1.00 kg | 38.50 |
| Singapore | First 0.50 kg | 32.83 |
| | Extra 1.00 kg | 26.99 |
| Taiwan | First 0.50 kg | 36.17 |
| | Extra 1.00 kg | 33.20 |
| Thailand | First 0.50 kg | 39.41 |
| | Extra 1.00 kg | 31.73 |
| Vietnam | First 0.50 kg | 60.55 |
| | Extra 1.00 kg | 39.82 |
| INT | First 0.50 kg | 48.56 |
| | Extra 1.00 kg | 40.10 |