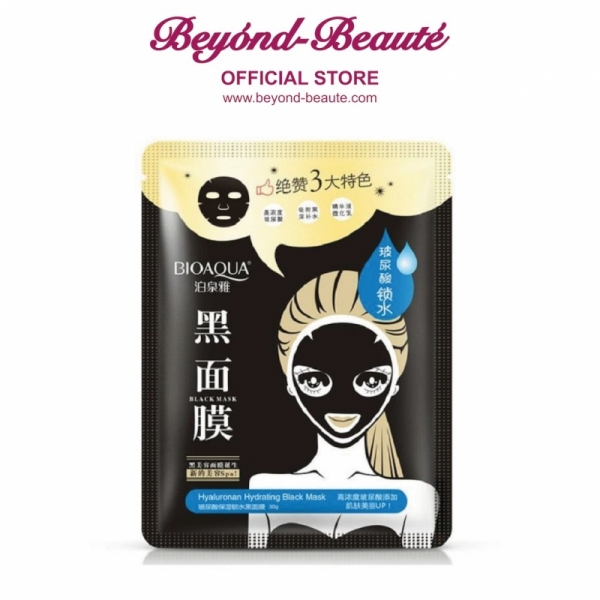 Formulation: Mask
Skin Concerns: Dryness
Expiry Date: Normal Expiry
Sun Protection: < SPF 30
Skin Type: All Types
Ingredient Type: Cruelty Free
Product: BIOAQUA® Hyaluronic Hydrating Black Facial Mask
NET WT:30g
Item Type: Face Mask
Type: Wrapped Mask
Formulation: Mask
Use: Whole Face
Benefits:
- Rich hyaluronan
- Moisturizing
- Improve rough skin and dry skin
- Smooth skin.
Product Information:
- Product effect: contains moisturizing ingredients, supplements skin necessary moisture and nutrients.
- Contains nourishing moisture to give the skin tenderness. Mask nourishes and moisturizes for long.
- Ideal for use in the morning to give the skin a fresh look all day long.
- While applying the mask hyaluronic acid moisturizes your skin, allowing the mask to be more effective!
- Moisture and tenderness for beauty with the Black Mask. Skin-friendly cotton material for delicate and nourishing care.
How to use?
1. Clean the facial skin.
2. Open the bag and remove the mask.
3. Unfold the mask, apply it on the face, gently tap the product to make the product close to the skin.
4. Relax and enjoy the mask for 15-20 minutes. The essence is fully absorbed.
5. Peel the mask and pat the excess liquid until absorbed.
6. Storage method: Store the product in the refrigerator or a cool place.
Expiry Date: Refer to product packaging.