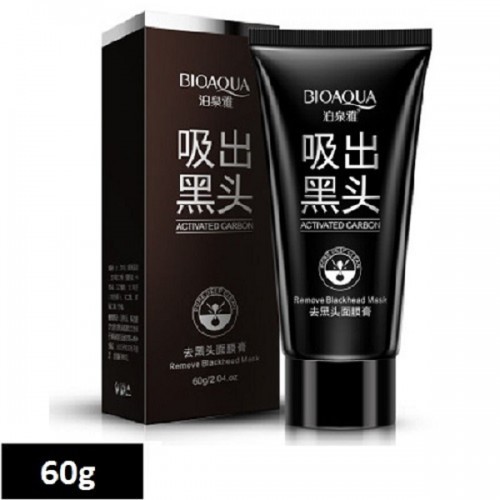 Skin Type: All Types
Easy removal of black spots for your beauty.
Removes black spots. Deeply cleanses skin. Cleans pores. Affects gently.
Effective removal of black spots
Use the correct method to use. Effective removal of black spots.
Get rid of the imperfections on your beautiful face!
Get rid of black spots on your skin. Can also help to get rid of blackheads.
Use different approach for different degrees of impurity of skin pores
Easy level of imperfections
Before using the mask, apply a hot towel for 2-3 minutes to face to help pores to open up. It is recommended to use serum for pores reducing after the procedure.
Medium level of imperfections
Use the mask 2 times a week, before applying the mask apply a hot towel for 2-3 minutes to skin to help the pores to open up.
High level of imperfections
For difficult dirt, use the mask 2-3 times a week, each time apply a hot towel for 2-3 minutes on face, then apply the mask.
Method of use
1. Clean skin face with cleanser. Apply compress of hot towel for 3-5 minutes to help pores to open up.
2. Apply the mask evenly on nose, forehead, chin and cheeks. Avoid areas around eyes, lips and eyebrows.
3. Wait 15-20 minutes, then carefully remove the hardened film off the face and rinse skin with warm water.
Tips
If the applied layer of the mask is too thin, it will be not easy to remove film from skin and the efficiency of the mask will be low. If you apply a thick mask layer, the waiting time of drying is will be long. It is recommended to use the mask evenly to fully cover skin area.
100% ORIGINAL
Gender:Unisex
Use:Whole Face
Formulation:Liquid
Type:Peel Mask
Feature:Acne Treatment,Anti-Aging,Moisturizing,Oil-control,Pigmentation Corrector,Whitening
NET WT:60g
Ingredient:Active Carbon
Item Type:Treatment & Mask
**************
Brand: BIOAQUA
Origin: China
Features: Adsorption blackheads and dirt inside the pores,helps improve skin dry,rough,balance water and oil,astringent,skin net cool transparent.Cool and comfortable,replenish moisture and nutrients,so that the skin soft and smooth,water-clear.
Ingredients:
Water, carbon powder, hyaluronic acid, dipotassium glycyrrhizinate, nicotinamide, carbomer, triethanolamine, tocopherol (vitamin E), suberic acid, phenoxyethanol, fragrance
Shelf Life:
3 years
Suggest used:
use morning and night, 3 bottles for one month use
Packing:
Sealed with retail package
Net Weight:
60g
How to use:
After cleansing, take appropriate julep mask cream evenly on the section around the nose and facial blackheads concentrated area, after 15-20 minutes, gently tear.
Skin type:- All Skin Type
| Zone | Weight | Delivery Fee (RM) |
| --- | --- | --- |
| West Malaysia | First 2.00 kg | 8.00 |
| | Extra 5.00 kg | 12.00 |
| East Malaysia | First 1.00 kg | 11.00 |
| | Extra 2.00 kg | 17.00 |