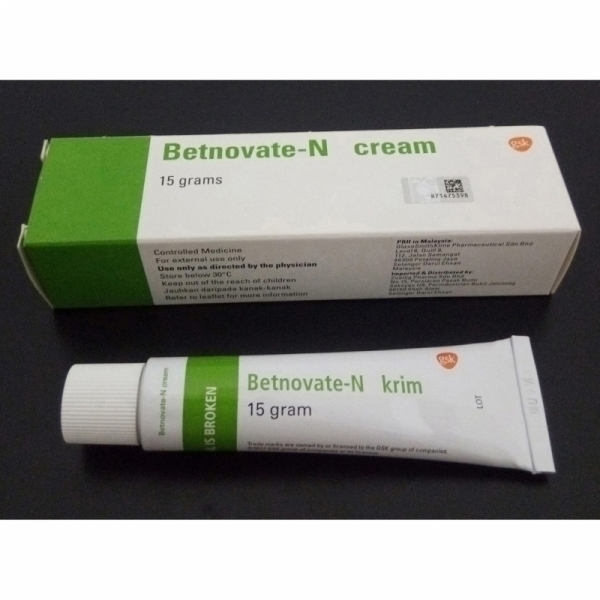 Size (length*width*height): 23cm x 35cm x 5cm
Expiry Date: Normal Expiry
Function: Anti-inflammatory
Pack Type: Single Item
Betnovate-N Cream 15g, Betnovate With Antibiotic Neomycin Sulphate
- SKU: BETNOVATEN-GSK-15G
- Specification:
(01) Betnovate-N: Scientific name is Betamethasone 17-valerate-Neomycin sulplate
(02) Brand: GSK (GlaxoSmithKline)
(03) Color: White
(04) Dimension: 125mm(W) x 35mm(D) x 27mm(H)
- Qualitative Quantitative Composition :
(01) 0.1% w/w betamethasone 17-valerate
(02) 0.5% w/w neomycin sulphate
(03) 0.1% w/w chlorocresol as preservative
- Indications:
(01) Betamethasone valerate is a potent topical corticosteriod indicated for the relief of the inflammatory and pruritic manifestations of steroid responsive dermatoses.
(02) Betamethasone valerate and neomycin sulphate, treatment of the following conditions where secondary bacterial infection is present, suspected, or likely to occur:
(A) Eczema including atopic infantile and discoid eczemas
(B) Prurigo nodularis
(C) Psoriasis (excluding widespread plaque psoriasis)
(D) Neurodermatoses including lichen simplex chronicus, lichen planus
(E) Seborrhoeic dermatitis
(F) Contact sensitivity reactions
(G) Insect bites reactions
(H) Management of secondary infected insect bites and anal and genital intertrigo
- Overall against or healing:
(01) Allergy
(02) Itching
(03) Rash
- NOT to be applied for:
(01) Rosacea
(02) Acne vulgaris
(03) Perioral dermatitis
(04) Pruritus without inflammation
(05) Perianal and genital pruritus
(06) Primary cutaneous viral infections
(07) Primary infected skin lesions caused by infection with fungi, or bacteria
(08) Primary or secondary infections due to yeasts
(09) Secondary infections due to Pseudomonas or Proteus species
(10) Otitis externa when the ear drum is perforated, because of the risk of ototoxicity.
- Overall NOT suitable for skin infections:
(A) Cold sores
(B) Herpes
(C) Impetigo
(D) Athletes foot
(E) Chicken pox
(F) Ringworm
(G) Thrush
- Dosage and administration:
(01) Especially appropriate for moist or weeping surfaces.
(02) Apply thinly rub in using enough to cover the entire affected area 1 - 2 daily for up to 7 days.
(03) Then change to another corticosteriod preparation not containing neomycin sulphate if further treatment is required.
(04) Allow adequate time for absorption after each application before applying an emollient.
(05) In the more resistant lesions, such as the thickened plaques of psoriasis on elbows and knees.
(06) The effect of it can be enhanced, if necessary, by occluding the treatment area with polythene film.
(07) Overnight occlusion only is usually adequate to bring about a satisfactory response in such lesions, thereafter improvement can usually be maintained by regular application without occlusion.
(08) Treatment should not be continued for more than 7 days without medical supervision.
(09) If the condition worsens or does not improve within 7 days, treatment and diagnosis should be re-evaluated.
#betnovatencream #betnovaten #betnovate #betamethasonevalerate #betamethasone #anti-inflammatory #anti-bacterial #eczema
| Zone | Weight | Delivery Fee (RM) |
| --- | --- | --- |
| West Malaysia | First 1.00 kg | 4.80 |
| | Extra 1.00 kg | 2.00 |
| East Malaysia | First 1.00 kg | 13.00 |
| | Extra 1.00 kg | 9.00 |