Size (length*width*height): 30cm x 12cm x 22cm
What's in the box:
1 x Benq MS531 SVGA 3300 ANSI Lumens Projector Free Carry case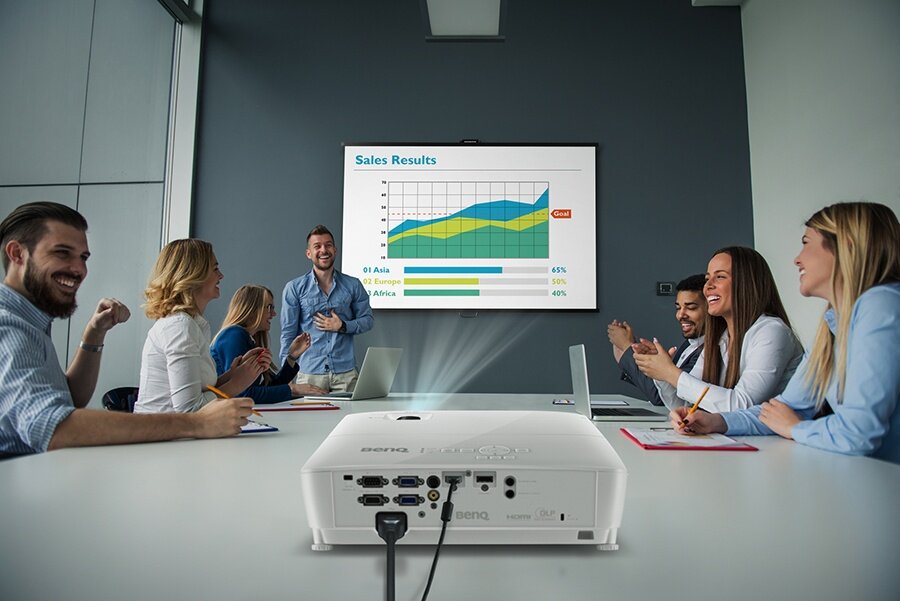 A Bright Idea for Busy Meeting Rooms
Outstanding High Brightness for Clear Presentations in Bright Environments
3,300 lumens of high brightness provide comfortable lights-on presentations in well-lit meeting rooms to promote discussion, collaboration, and note-taking. The high luminance boosts picture quality with vibrant color for pictures and videos as well as crisp text and fine details.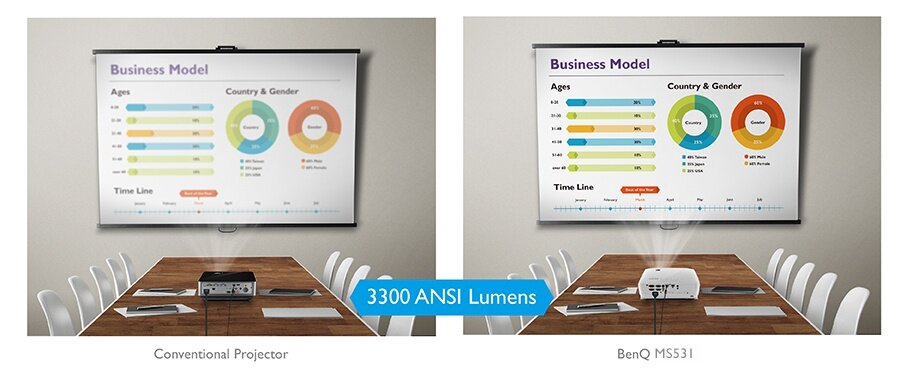 High Native Contrast for Superior Readability and Subtle Gradations
Powerful 15,000:1 native contrast enabled by state-of-the-art DLP technology and all-glass optical lens systems deliver ultimate clarity, smooth gradational mid-tone color transitions, and razor-sharp readability for compelling corporate visual communication.

Intelligent Functionality for Intuitive Operation
Multiple HDMI and VGA Inputs for Universal Connectivity
Dual HDMI inputs in addition to dual VGA inputs are purpose-engineered to host multiple presenters and their laptops or mobile devices without a second thought. Multiple inputs enable meeting participants, teachers, and students to collaborate instantly without complicated adapters or time-consuming IT support.

Vertical Keystone Correction for Perfectly Aligned Images
Countering the trapezoid effect when the projector must be placed off-center, such as simple placement on top of a table, the vertical keystone function adjusts the image for a professionally squared image. Keystone correction makes it simple to project ideally aligned images from a variety of locations.

Convenient Outer Adjustment Feet
Far superior to projectors with only one adjustment foot, the triple adjustment feet significantly enhance flexibility in a wide variety of meeting rooms, with the additional feet placed at the corners or the projector to facilitate easy movement.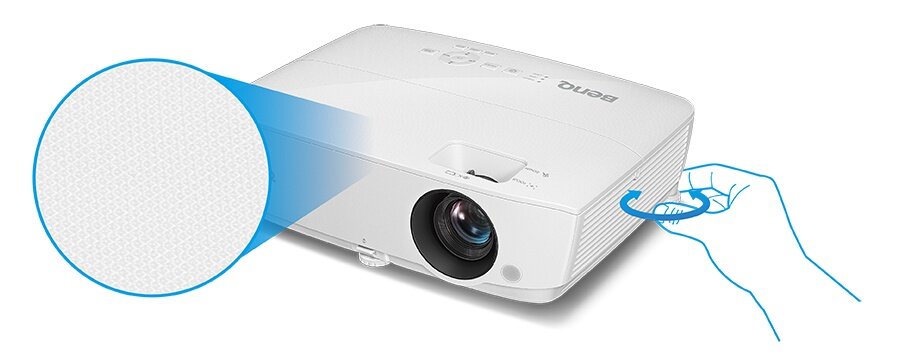 Designed for Convenient Room-to-Room Portability
A sleek, compact industrial design with a sculpture patterned cabinet resists dirt and fingerprints as the projector is moved from one room to another, along with new intuitive keypad and remote control layout to simplify picture adjustment to the new room.

Intelligent Eco-Friendly Functionality for Optimized Presentations
Maximum Power Savings with BenQ Exclusive SmartEco™ Technology
An exclusive BenQ innovation, SmartEco Technology perfects DLP's energy saving capabilities, simultaneously delivering uncompromised brightness, exquisite picture quality, optimized lamp life with reduced lamp usage and TCO. SmartEco enables corporations to minimize lamp power consumption and maintenance costs through dynamic power saving features while bringing ultra-vivid viewing experiences into every presentation.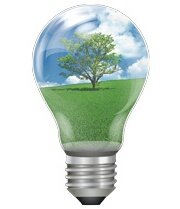 SmartEco Mode
Detecting the input content to determine the amount of brightness required for optimum color and contrast performance, SmartEco Mode reduces lamp power while delivering the finest image quality without compromise.
Eco Blank Mode
Automatically deployed when the projector is turned on for over three minutes without a display source, Eco Blank Mode eliminates unnecessary energy waste and prolongs the life of the projector lamp, saving up to 70% lamp power and blanking the screen to focuse full audience attention on the presenter or instructor.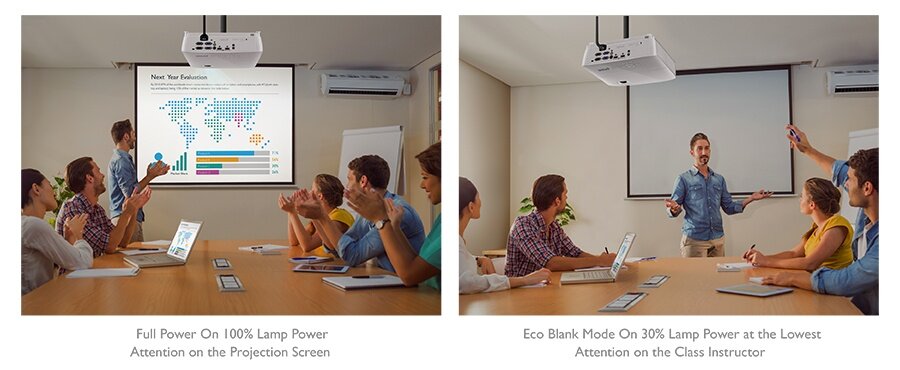 Always Ready to Present with Easy Setup and Maintenance
Quick-Access Top Lamp Door for Efficient Replacement
Conveniently placed on the top, an easy-to-open lamp door allows fast lamp access, maintenance, and replacement for uninterrupted productivity whether the projector is placed on a table-top or ceiling mounted in meeting rooms. The quick-access lamp door significantly reduces downtime by eliminating the need to uninstall mounted projectors, making lamp changes a quick and simple process.

One-Touch Access to Installation Functions
Thoughtfully redesigned, the new remote control includes a dedicated Quick Install button, which instantly accesses installation-friendly functions such as Test Pattern and Keystone directly without selecting nested menus in the On-Screen Display.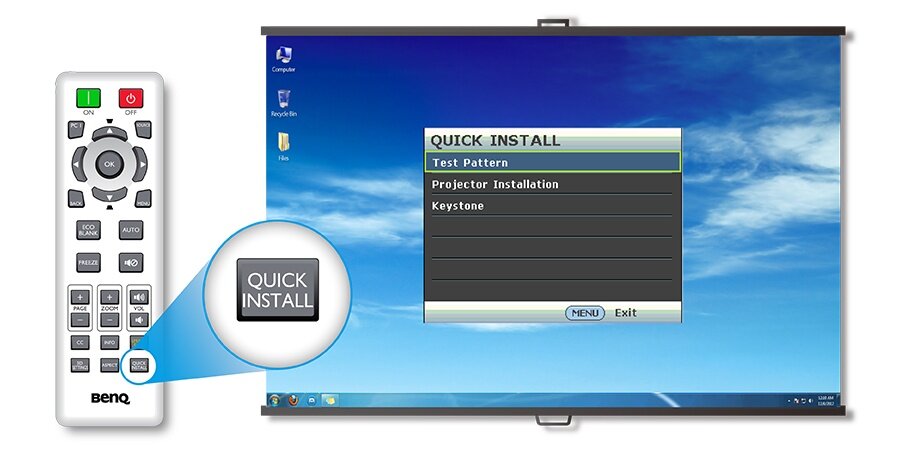 BenQ DLP® Projectors
Perfectly Long Lasting Picture Quality with DLP Projection Technology
Digital Light Processing (DLP), awarded 2015 Academy Award of Merit (Oscar® statuette), is the leading projection technology used in 90% of world's digital cinemas and 100% of IMAX theaters. With DLP dominating the worldwide projector market with over 50% share, BenQ is today the #1 bestselling DLP
Long Lasting
The incredibly durable micro-mirrors of the DLP chip and the nearly-sealed DLP engine design mean that BenQ DLP Projectors stand the test of time without any loss in picture quality. Eliminating dust buildup and heat damage, BenQ projectors shine year after year and look as good as new with a simple lamp change.

Razor-Sharp
Critically acclaimed for industry-leading high contrast, BenQ DLP Projectors also produce the most crisply defined sharpness for crystal-clear details and legible text by maximizing the fill ratio of individual pixels and employing exclusive BenQ SmartEco™ Technology.

| | | |
| --- | --- | --- |
| Zone | Weight | Delivery Fee (RM) |
| West Malaysia | First 1.00 kg | 7.00 |
| | Additional 1.00 kg | 1.30 |
| East Malaysia | First 1.00 kg | 14.40 |
| | Additional 1.00 kg | 13.00 |
DELIVERY & SHIPPING POLICY
How much will I pay for shipping and delivery?
The shipping and delivery charges will be displayed in your final order summary, before you proceed to the step of payment issue.
When will I receive my order?
From each of our product description page, you are able to see the estimated delivery schedule of that particular product. Most of our product takes 1 – 6 business days for delivery to most of the major cities in Malaysia ( Penisular ), while delivery to East Malaysia can be take to 3 – 10 business days. Delivery date is much dependent to our courier service provider schedule.
Can I choose the exact time of delivery?
Unfortunately , It is not possible to choose the exact time of delivery as all delivery will be handle by our courier service partners.
Do you deliver everywhere in Malaysia?
Most of the products offered by IT Comp can be delivered anywhere in Malaysia provided the location is reachable within our courier service delivery coverage.
Do you deliver outside of Malaysia?
As for time being, we are only accepting order within Malaysia, we will be considering on expending out of Malaysia order if we foresee there is a major needs.
Do you deliver to my office address?
Yes. Please provide your office address as the delivery address during the check-out process. Remember to indicate the company name in the address, otherwise our delivery partners may not be able to access the premises. To Be Aware, Once your order is placed, you cannot change the delivery address.
What happens if I am not at home when the courier is here to deliver?
When you are not at home you may ask someone else at home to take delivery of the order on your behalf. Please make sure that this person has your ID, or his/her ID, as well as dated and signed letter of authorization from your indicating that you authorize this person to take delivery of IT Comps order on your behalf.

** Delivery is only within Malaysia.