What's in the box:
Baby Bullet Food Blender
As parents, we all want to provide the best food for our children. With organic foods providing better nutrition and minimize some of the risks of using today's prepared foods that can contain some unnatural and potentially unhealthy elements, more parents are choosing organic baby foods for their children. While investing in organic foods may be costly, there's an innovative way to cut out the expenses while still feeding your children with delicious and healthy food. Plus, it's time saving and you can prepare up to an entire week's worth of baby food. With the Baby Bullet Blender, your children can enjoy only the healthiest and freshest organic food! 

How the Baby Bullet Blender worksSome organic baby foods you bought from the store may have been added with sugars or fillers. But with the Baby Bullet Blender, you can control what your babies are eating. With the specially designed blade that can grind any kind of fruits and vegetables, you can blend bananas and mangos into perfect consistency purees in just 7 seconds! And, your baby will get all the vitamins and oxidants with no added sugars or fillers. 

Perfect any stage eaterThe Baby Bullet Blender is perfect for any stage eater. All you need to do is just push and twist for stage 1 early eaters, or push and pulse for chunky textures for stage 2 older babies. With flat milling blade, it is able to grind rice and other grains into the finest of meals, perfect for babies.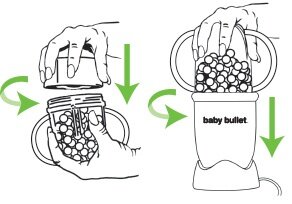 A week worth of organic baby foodThe Baby Bullet Blender is able to provide you a week's worth of organic food with its included six of the all-new Storage Cups that has an exclusive Date Dial System. With the Date Dial System, you always know exactly when your food was made and know exactly how fresh it is. Just fill up the cup with baby food, twist the Date Dial to the preparation date, and store in the refrigerator or freezer. It's that easy!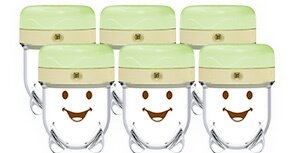 Delicious baby food recipes includedNo idea on what to mix for your next baby food? No worries! The Baby Bullet Blender includes a user manual/cookbook with age-appropriate delicious recipes that you can easily prepare. It also comes with a pocket nutritionist booklet that provides helpful vitamins and minerals data for the healthiest menu planning. The Baby Bullet Blender also comes with a short cup with handles so you can mix smaller servings, and the stay-fresh reseal-able lid helps keep your baby food fresh for storage or travel.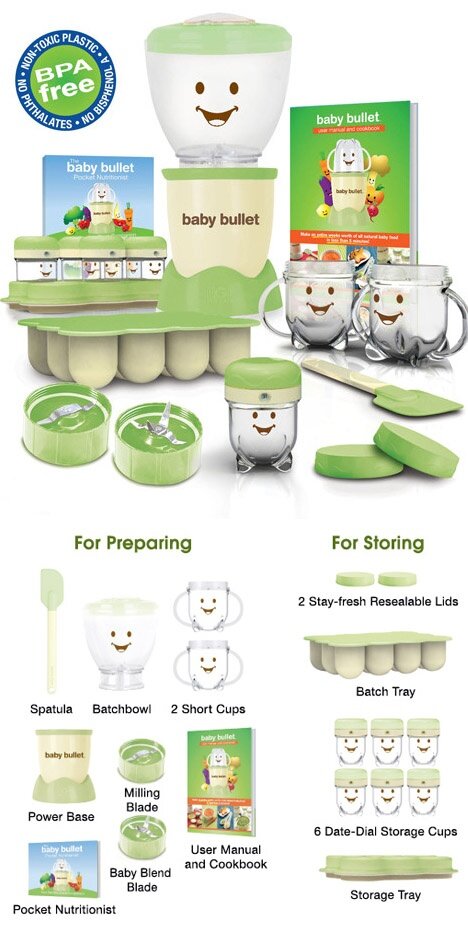 | | | |
| --- | --- | --- |
| Zone | Weight | Delivery Fee (RM) |
| WM | First 5.00 kg | 7.50 |
| WM | Additional 1.00 kg | 1.50 |
| EM | First 1.00 kg | 30.00 |
| EM | Additional 1.00 kg | 12.00 |