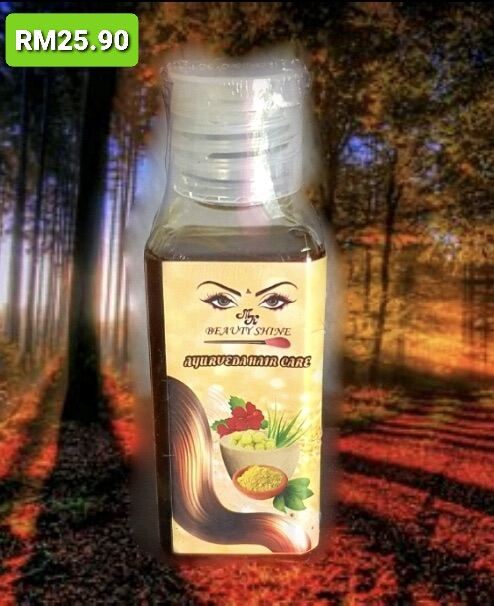 Use every 2 days for fast remedy. Reduce hair falls and grow hair.
Ingredients: -
Henna (Maruthani) Helps to reduce hair fall, hair thinning.
Aloe Vera (Sorrukatalai) Moistures dry hair, volumize hair and protects fm Natural Sun
A
lternanthera Sesillis (Ponnangkaani) For hair grow and glow for its cooling herbs, prevents dandruff.
Phyllanthus Emblica (Nellikai) Conditions your hair, improve tone of hair and minimize grays
Curry leaves (Kari Vepilai) Its protein and beta-carotene prevent hair loss and strengthens hair roots and antioxidants moisturize the scalp and remove dead hair roots.
Hibiscus (Sembarathi) - Rejuvenates the scalp and promotes hair growth.
Fenugreek (Vendhayam) The seeds rich in iron and protein helps hair growth.
Black Cumin (Karuppu Seeragam) Promotes hair growth and strength hair follicles. Acts as natural moisturizer and reduces the dryness on the scalp, hence it prevents hair fall.
Plectranthus Vettiveroides (Vettiver) Eradicates Lice fm scalp, strengthens scalp and hair roots
Withania somnifera (Ashwagandha Calms and Balance our hormones, promotes sleep, reduce hair fall, Adrenal Gland recovery
Coconut Oil Repairs dry scalp and promotes hair growth
Olive Oil Contains palmitic acid, squalene, and emollients oleic acid. Emollients have a lubricant property that helps in moisturizing and softening of hair. Olive oil is used for many years for it gives shine and elasticity to hair because of the presence palmitic acid, squalene and oleic acid.
| Zone | Weight | Delivery Fee (RM) |
| --- | --- | --- |
| West Malaysia | First 1.00 kg | 4.80 |
| | Extra 1.00 kg | 2.00 |
| East Malaysia | First 1.00 kg | 13.00 |
| | Extra 1.00 kg | 9.00 |
Welcome to Shasthi Sadhana Beauty web site online store. Terms and conditions stated below applies to all visitors and users of. You're bound by these terms and conditions as long as you're on https://shasthisadhanabeauty.mta4.sitegiant.cc/.

General
The content of terms and conditions may be change, move or delete at any time. Please note that Shasthi Sadhana Beauty have the rights to change the contents of the terms and conditions without any notice. Any violation of rules and regulations of these terms and conditions, Shasthi Sadhana Beauty will take immediate actions against the offender(s).


Site Contents & Copyrights
Unless otherwise noted, all materials, including images, illustrations, designs, icons, photographs, video clips, and written and other materials that appear as part of this Site, in other words "Contents of the Site" are copyrights, trademarks, trade dress and/or other intellectual properties owned, controlled or licensed by Shasthi Sadhana Beauty.

Comments and Feedbacks
All comments and feedbacks to https://shasthisadhanabeauty.mta4.sitegiant.cc/ will be remain Shasthi Sadhana Trading's property.

User shall agree that there will be no comment(s) submitted to the https://shasthisadhanabeauty.mta4.sitegiant.cc/ will violate any rights of any third party, including copyrights, trademarks, privacy of other personal or proprietary right(s). Furthermore, the user shall agree there will not be content of unlawful, abusive, or obscene material(s) submitted to the site. User will be the only one responsible for any comment's content made.

Product Information
We cannot guarantee all actual products will be exactly the same shown on the monitor as that is depending on the user monitor.

Newsletter
User shall agree that Shasthi Sadhana Beauty may send newsletter regarding the latest news/products/promotions etc through email to the user.

Indemnification
The user shall agree to defend, indemnify and hold Shasthi Sadhana Beauty harmless from and against any and all claims, damages, costs and expenses, including attorneys' fees, arising from or related to your use of the Site.

Link to other sites
Any access link to third party sites is at your own risk. https://shasthisadhanabeauty.mta4.sitegiant.cc/ will not be related or involve to any such website if the user's content/product(s) got damaged or loss have any connection with third party site.

Inaccuracy Information
From time to time, there may be information on https://shasthisadhanabeauty.mta4.sitegiant.cc/ that contains typographical error, inaccuracies, omissions, that may relate to product description, pricing, availability and article contents. We reserve the rights to correct any errors, inaccuracies, change or edit information without prior notice to the customers. If you are not satisfy with your purchased product(s), please return it back to us with the invoice. Please check out "Return and Refund Policy".

Termination
This agreement is effective unless and until either by the customer or https://shasthisadhanabeauty.mta4.sitegiant.cc/. Customer may terminate this agreement at any time. However, https://shasthisadhanabeauty.mta4.sitegiant.cc/ may also terminate the agreement with the customer without any prior notice and will be denying the access of the customer who is unable to comply the terms and conditions above.