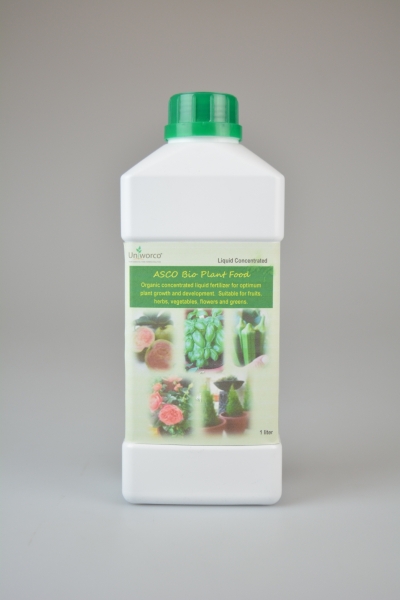 ASCO Bio Plant Food is an environmental friendly concentrated liquid fertilizer that is suitable for fruit trees, herbal plants, vegetables, flowers and greens. It contains organic matters, minerals, amino acid, etc, for optimum plant growth and development.

Benefits of using ASCO Bio Plant Food (liquid concentrated) :-
1) produce quality, tastier and sweeter fruits
2) produce quality herbs that are rich in aroma
3) produce quality vegetables that fresh and tasty
4) produce more attractive and lasting flowers that bloom regularly
5) produce larger and green leaves with stronger stems

Instructions for dilution and application :-
Stir and shake gently the bottle before dilute 1 liter of concentrated liquid ASCO Bio Plant Food to 10 liters of water. Pour the diluted ASCO Bio Plant Food to the soil in the pot or ground until the soil is thoroughly drenched. Fertilise consistently every 8 to 10 days, do not exceeded 10 days. Combine the usage of ASCO Bio Plant Food (liquid concentrated) with ASCO-nobm (liquid concentrated) for more effective result.
Storage :-
Keep in cooling area and stay away from direct sunlight.
Precaution :-
Keep away the reach of children.

ASCO Bio Plant Food (liquid concentrated) contains benefit effective microorganism, hence is normal that the bottle may expand when the microorganisim is in an active stage, so just release off the gas by opening the cover of the bottle.
| Zone | Weight | Delivery Fee (RM) |
| --- | --- | --- |
| West Malaysia | First 1.00 kg | 10.00 |
| | Extra 1.00 kg | 5.00 |
| East Malaysia | First 1.00 kg | 18.00 |
| | Extra 1.00 kg | 18.00 |