Anti-winkle Eye Massager
Product specifications and features:
Colour : Pink

Dimensions: 105.3mm (L) x 20.6mm (W) x 20mm (H)

Colour: white or pink

Total massager to help skincare penetrate deeper into the skin

Optimum results when used with anti-wrinkle care products

Conveniently shaped massage head for easy application to the facial contours around the eyes, nose, and mouth

Product automatically operates when the massage head comes in contact with the skin surface

Adjusts automatically to skin conditions and the amount of skincare product applied

DC1.5V / 75mW

Power: One 1.5V AAA Alkaline battery for up to 6 hours continuous usage (not included)
Package includes:
1x anti-wrinkle face massager

1x small pouch
Enhance beauty regimens by employing methodical massagers which drive skincare products deeper into skin and effectively reduces wrinkles when used with anti-wrinkle care products. While vibrating heads automatically operate when in contact with skin, the aerodynamic design allows easy application around eyes, nose, mouth, and door hinges. Handheld devices are operated by a single AAA battery is delivered to personal abodes nationwide.
功能说明:
除皱按摩仪
1、离子感应;
2、轻松按摩皮肤;
3、帮助改善黑眼圈,去除皱纹。

这款产品利用离子渗透的作用及优良的设计以达到去除皱纹的作用。
使用说明:
在眼睛,鼻子,嘴周围涂上适合的护肤品。
按摩头轻轻的按摩,使护肤品更加容易的被深层吸收。
待护肤品被肌肤完全吸收后可停止按摩。
注意事项:
当按摩头与皮肤接触时,按摩器 将自动工作。当护肤品被肌肤完全吸收时,请停止按摩器工作,以免引起皮肤干燥。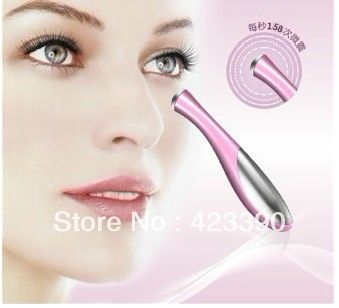 | | | |
| --- | --- | --- |
| Zone | Weight | Delivery Fee (RM) |
| WM | First 0.50 kg | 8.00 |
| WM | Additional 0.50 kg | 3.00 |
| EM | First 0.50 kg | 12.00 |
| EM | Additional 0.50 kg | 5.00 |