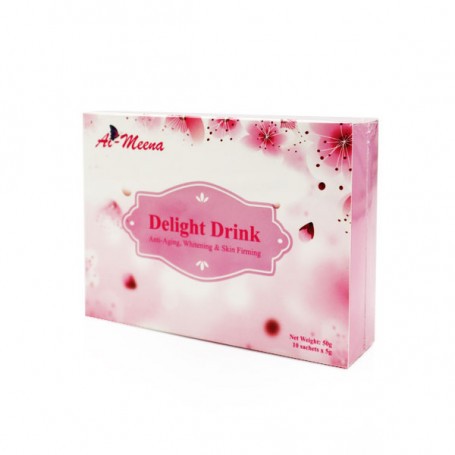 Expiry Date: Normal Expiry
Minimum untuk Meningkatkan Payudara
Breast Enlargement Drink
Main Ingredients for Delight Drink:
*Kacip Fatimah: To maintain a healthy female reproductive system, to help tighten and lubricate to enhance make love function. It helps balance hormones and eliminate postnatal depression, such as loss of interest in love by promoting vitality and strength to improve intimacy.
*Lobata Extract: Rich natural phytogenesis which is very helpful in accelerate and stabilizing hormone level in women body. Lobata also can improve micro-circulation, promote toxin elimination and promote mammary gland healthiness.
*Soy Isoflavones: Can protection against breast cancer, prostate cancer, menopausal symptoms, improve bone health, reduce heart disease and prevent osteoporosis.
*Red Grape Powder: Is have a high content of vitamins A, B1, B2 and C. Helps to inhibit cancer, heart disease, degenerative nerve disease, viral infections and Alzheimer's disease.
*Mother Wort: It helps to control hormones and promote blood circulation. It also helps to reduces menstrual cramps and flatulence.
*Manjakani Extract: Traditionally used to tightening the uterus, contracting the womb and treating women problems.
*Mirifica Extract: Can help to increase breast size, firming up the breast and buttock.
The many therapeutic effect of Delight drink:
-Prevent to hormone imbalance greatly
-Firming breast
-Reduce menopausal disorders
-Promote metabolism
-Improve blood circulation
-Activate cells growth
-Prevent ageing
-Stabilized female hormone
-Anti-inflammatory
-Prevent breast cancer
Brewing Method:
1. Each box contains a printed sachet
2. Sachet with powder type and easy to use
3. 1 sachet per day,easy to consume
Direction of use: Take 1-2 sachet daily, consume an empty stomach in the morning
Precautions:
1.Do not drink during menstruation.
2.Not suitable for pregnant women and cancer patient.
3.Gastric patient can choose to take half an hour after a meal.
Vegetarian
10 sachet X 5g
| Zone | Weight | Delivery Fee (RM) |
| --- | --- | --- |
| West Malaysia | First 1.00 kg | 4.80 |
| | Extra 1.00 kg | 2.00 |
| East Malaysia | First 1.00 kg | 13.00 |
| | Extra 1.00 kg | 9.00 |