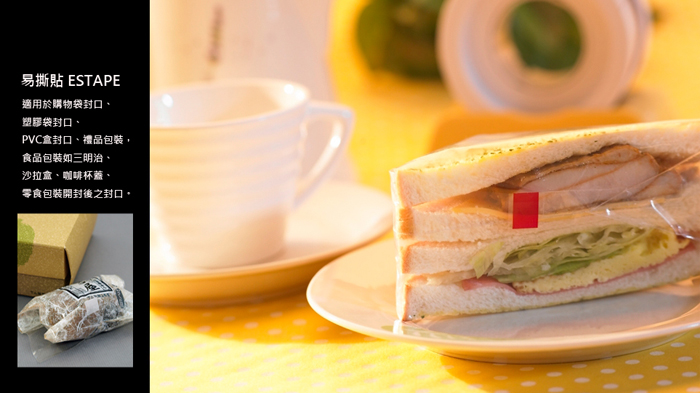 Size: 15mm x 55mm / piece; 800 / per roll Color: Yellow color head transparent body intimate Packaging: Attach patented designs are transparent blister per roll, without looking for scissors or a utility knife, anywhere can be easy and safe extraction tear stickers. ※ Due to shooting angle or lighting or display a different color degree sections of other reasons, may result in pictures of goods have a certain color, all goods are subject to the real product, please 100% agree to buy.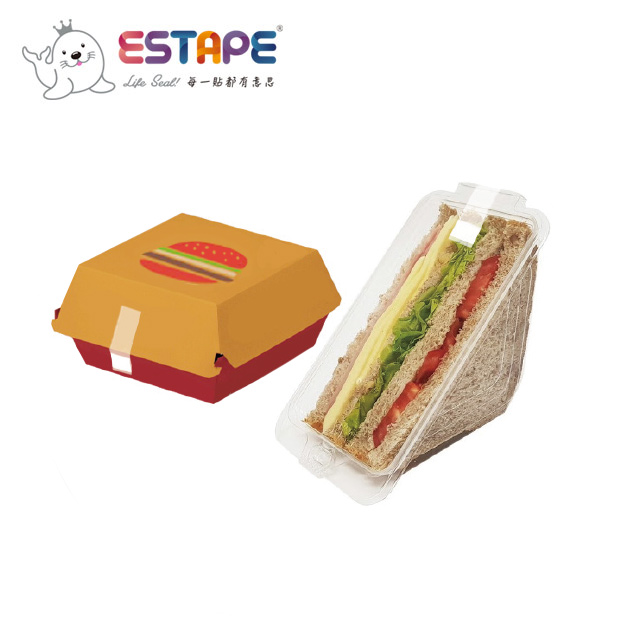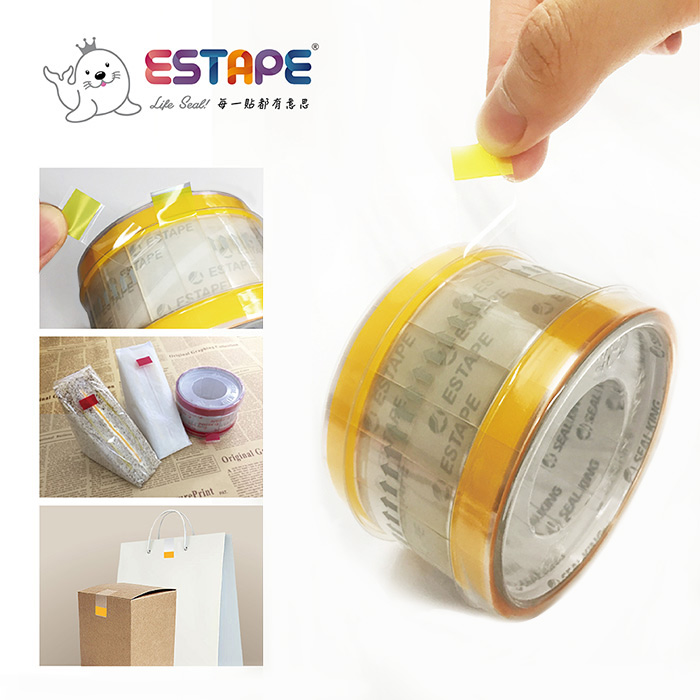 王佳膠帶易撕貼ESTAPE抽取式OPP封口膠帶貼於商品包裝上或檔案註記等,消費者可方便快速的找到膠帶頭;開店店家或百貨公司行號在包裝/紙袋/公告等封口標示黏貼使用上可快速抽取OPP封口膠帶不需裁切,作業上省時、省力又美觀。
商品應用:
王佳膠帶易撕貼ESTAPE抽取式OPP封口膠帶適用於購物袋封口、塑膠袋 信封封口、PVC盒封口、禮品花束包裝,食品包裝如三明治、蛋糕點心、沙拉盒、咖啡杯蓋、零食包裝開封後之封口,檔案拉頁註記及生產線顏色標示管理或居家生活之照片標貼、公文標貼、卡片標貼、小品標貼、學校教室美勞及手工雜貨創意等等。
商品單位:800片/1卷
商品尺寸:15mm(寬)x55mm(長)/片
色頭顏色:黃
貼心包裝:王佳膠帶易撕貼ESTAPE抽取式OPP封口膠帶每卷皆附上專利設計透明泡殼,不需找剪刀或美工刀裁切,即可隨時隨地輕鬆便利又安全的抽取易撕貼ESTAPE。
 
※因拍攝角度或燈光或各款顯示器顯色程度不同等原因,可能造成商品圖片與實物有一定色差,所有商品都以實品為準,請100%同意接受再購買。
本商品規格

尺 寸:14mm(±1mm) x 55mm x 12M/片; 800片/每卷 顏 色:黄色色頭透明身 貼心包裝:每卷皆附上專利設計透明泡殼,不需找剪刀或美工刀,隨時隨地皆可輕鬆又安全的抽取易撕貼。 ※因拍攝角度或燈光或各款顯示器顯色程度不同等原因,可能造成商品圖片與實物有一定色差,所有商品都以實品為準,請100%同意接受再購買。
| | | |
| --- | --- | --- |
| Zone | Weight | Delivery Fee (RM) |
| MY | First 0.10 kg | FREE |
| | Additional 0.10 kg | FREE |
Shipping Info
Order process take 1~3 days, and international shipping will take about 10~14 days

Important Notification:
1. PChomeSEA acts as a buying agent and does not provide product warranty.
2. Please check whether product specs (including voltage, plug type, frequency, etc.,) applys in your country.