E-books B18 independent switch 2 hole USB charger ?? color: white ?? Weight: 52g ?? Package weight: 76g ?? Product Dimensions: 3.5 (L) x3.8 (W) x5.4 (H) cm ?? Package Size: 8.5 (L) x11.4 (W) x4 (H) cm ?? Product Specifications Material / Material: iron, plastic, electronic components Input voltage: 100V-240V / 50-60Hz 0.25mA Output voltage: DC 5V 2.1A constant current ( The maximum peak quality 2.5A) Output Current: 2100mAh USB slots: 2 hole ?? product characteristics. This product has been insured 20 million liability insurance. BSMI ID: R51285, verify registration Model: PS-A02. CCIB by Taiwan BSMI certification. . Independent power button. . 2 hole USB port, sync charging super fast. . Output power up to 2500mA. . A power indicator and 90 degrees foldable plug. . Low-voltage, over power, over-temperature protection device. . Suitable for smart phones, tablet PCs, iPod, iPhone, action power, digital camera ... etc. Precautions Avoid strong shock or damage to put the product on the reach of children will not need dry storage place for this product, and away from heat, high humidity, direct sunlight or corrosive materials observe electrical safety specifications ?? Accessories Warranty Card ( warranty 6 months) ?? the specification if narrative is wrong, please the official website announced the latest news prevail. http://www.ebooks-cct.com.tw ?? Warranty Description: damage non-human factors, the factory warranty please be sure to comply with the instructions in the manual operation of the product and precautions ?? For handling returned before 6 months ?? Use goods, packaging and accessories shall complete (product parts, packaging intact, no scratches damage). ?? Pictures may be due to the shooting relations page rendering and color, for reference only, please according to the actual delivery of goods style prevail.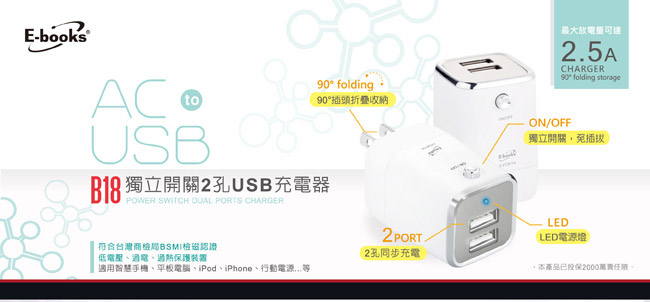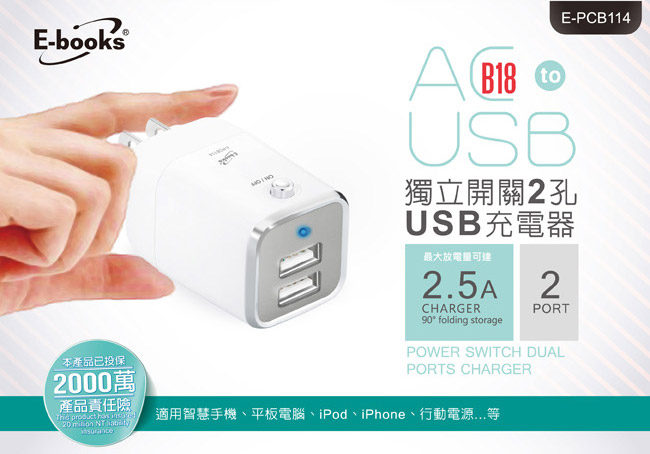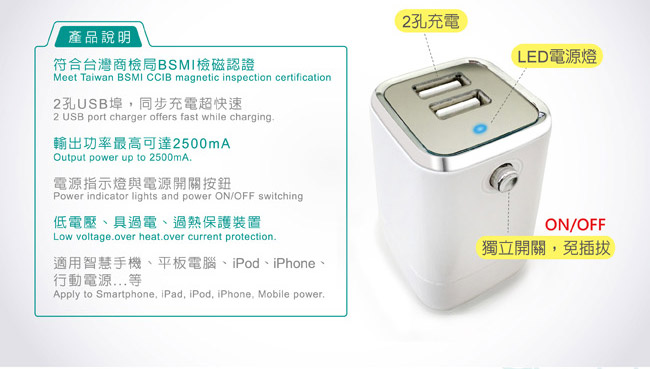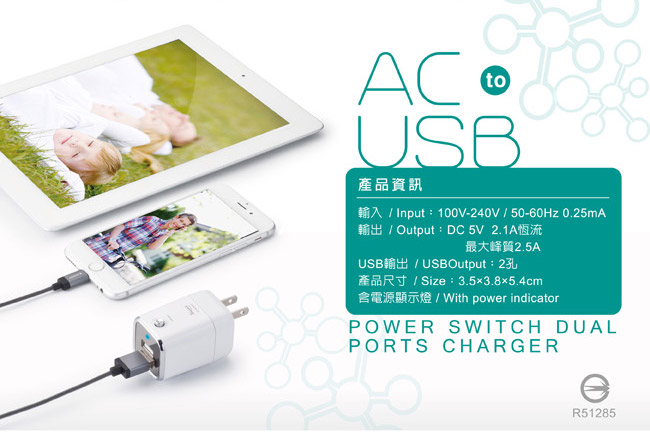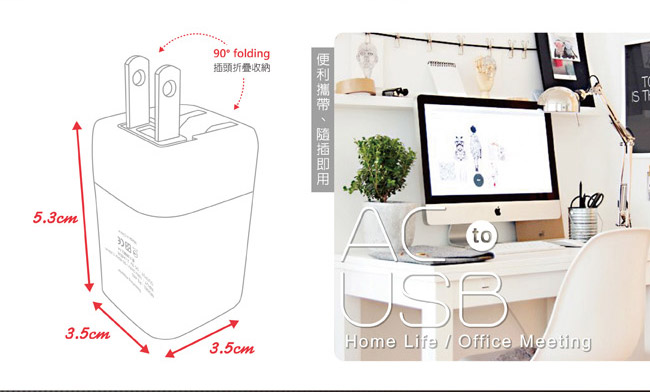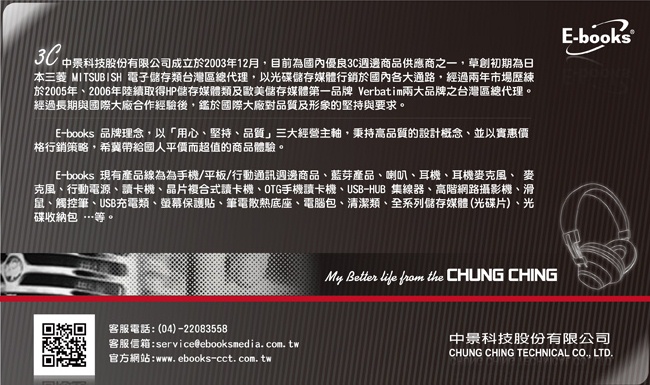 .本產品已投保2千萬責任險
.BSMI識別碼:R51285,驗證登錄型號:PS-A02
.通過台灣商檢局BSMI安規認證。
.獨立電源開關按鈕。
.2孔USB埠,同步充電超快速。
.輸出功率最高可達2500mA。
.具電源指示燈與90度可摺疊式插頭。
.低電壓、過電、過熱保護裝置。
.適用智慧手機、平板電腦、iPod、iPhone、行動電源、數位相機...等。
本商品規格

E-books B18 獨立開關2孔USB充電器 ■顏色:白 ■商品重量:52g ■包裝重量:76g ■商品尺寸:3.5(L)x3.8(W)x5.4(H) cm ■包裝尺寸:8.5(L)x11.4(W)x4(H) cm ■產品規格 材質/Material:鐵、塑膠、電子元件 輸入電壓:100V-240V / 50-60Hz 0.25mA 輸出電壓:DC 5V 2.1A 恆流(最大峰質2.5A) 輸出電流:2100mAh USB插槽數:2孔 ■產品特色 .本產品已投保2千萬責任險 .BSMI識別碼:R51285,驗證登錄型號:PS-A02 .通過台灣商檢局BSMI安規認證。 .獨立電源開關按鈕。 .2孔USB埠,同步充電超快速。 .輸出功率最高可達2500mA。 .具電源指示燈與90度可摺疊式插頭。 .低電壓、過電、過熱保護裝置。 .適用智慧手機、平板電腦、iPod、iPhone、行動電源、數位相機...等。 注意事項 避免產品強烈撞擊或破壞 請將本產品放置於孩童不會觸及之場所 本產品需乾燥存放、並遠離高溫、高濕度、陽光直射或腐蝕性物品 請遵守安全用電規範 ■配件 保固卡(保固6個月) ●產品規格若敘述有誤,請以官網公告最新資訊為準。http://www.ebooks-cct.com.tw ●保固說明:非人為因素之損壞,原廠保固6個月 ●使用前請確實遵從產品說明書內之操作指示及注意事項 ●如需辦理退換貨,包裝與配件須完整(商品配件、包裝完整,無刮痕損傷)。 ●產品圖片可能會因網頁呈現與拍攝關係產生色差,僅供參考,請依實際供貨商品樣式為準。
| | | |
| --- | --- | --- |
| Zone | Weight | Delivery Fee (RM) |
| MY | First 0.10 kg | FREE |
| | Additional 0.10 kg | FREE |
Shipping Info
Order process take 1~3 days, and international shipping will take about 10~14 days

Important Notification:
1. PChomeSEA acts as a buying agent and does not provide product warranty.
2. Please check whether product specs (including voltage, plug type, frequency, etc.,) applys in your country.