E-books S34 運動型軟矽膠音控接聽氣密耳機
E-books S34 sports soft silicone YinKong answer airtight headphones ?? color: gray iron ?? Package weight: about 63g (including product) ?? Product Weight: about 19g ?? Size: Headphones body 2.1 (L) x3 (W) x5 .9 (H) cm sound controller 4 (L) x0.7 (W) x0.5 (H) cm ?? Package size: 4 (L) x9.5 (W) x17 (H) cm ?? Product Specifications 1. Speaker diameter / Speaker: ?10mm 2. Response Range / Frequency Response: 20-20,000Hz 3. Pin /Plug:?p3.5mm 4-band stereo gold-plated pin 4. Impedance / Impedance: 32?[ 5. Rated power: 15mW 6. Power Capacity: 150mW 7. Microphone / Microphone Unit: 4 ?? 1.5 / -42dB ?? 3dB 8. Sensitivity / Sensitivity: 97 ?? 3dB SPL at 1KHz 9. Cable Length / Cable Length: 1.2M ?? 0.03M ?? Features ?E earhook design Movement does not fall off. ?E sporty soft silicone, durable wear. ?E support phone calls and music Bofang. . Sound clear and clean, full sound enough. . Built answer key / attached volume control / hidden microphone. ?E suitable for tablet PCs, single jack laptop, smart phone. ?E Support smart phone microphone Android / ios / iPhone / iPad systems of the answer function. ?? Product specifications if narrative is wrong, please the official website announced the latest news prevail. www.ebooks-cct.com.tw ?? Warranty Description: damage non-human factors, the previous three-month manufacturer's warranty ?? Use Please make sure to comply with the instructions within the operation of the product instructions and precautions ?? Returns For handling, packaging and Accessories must complete (product parts, packaging intact, no scratches damage). ?? Product images may vary depending on shooting relations page rendering and color, for reference only, please according to the actual delivery of goods style prevail.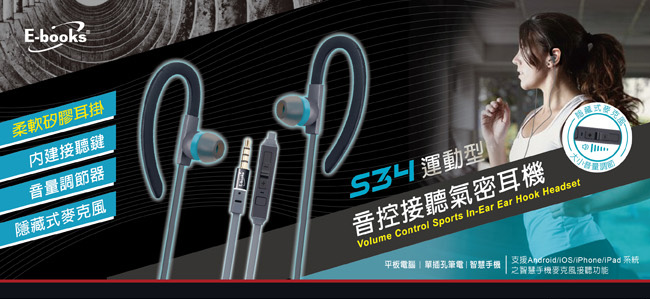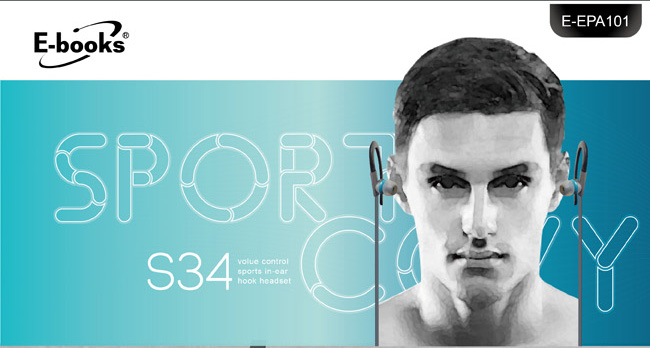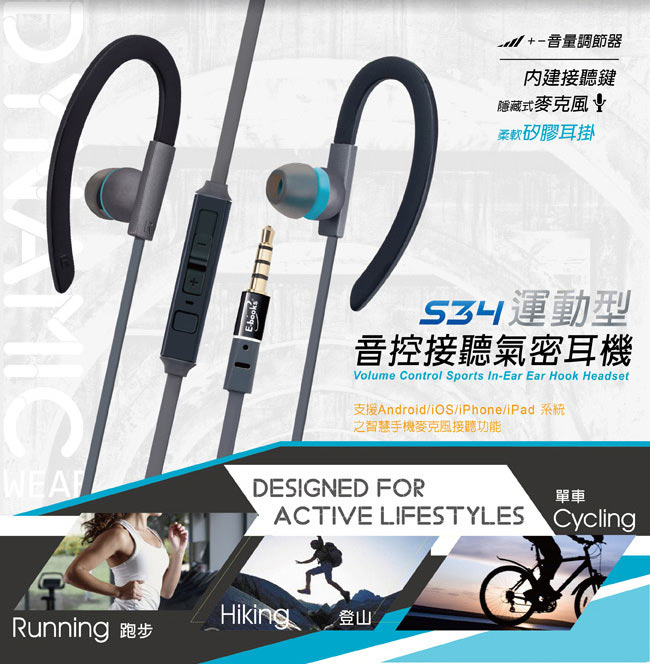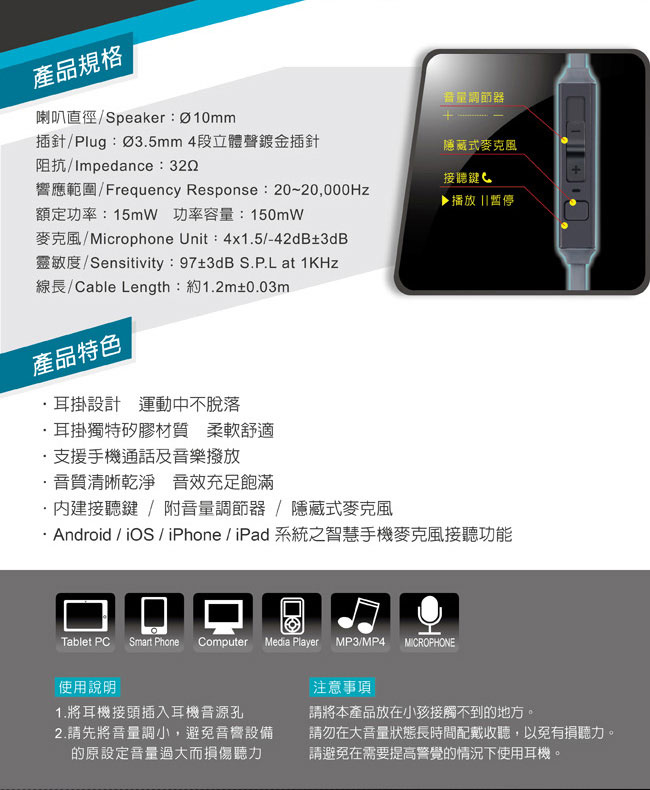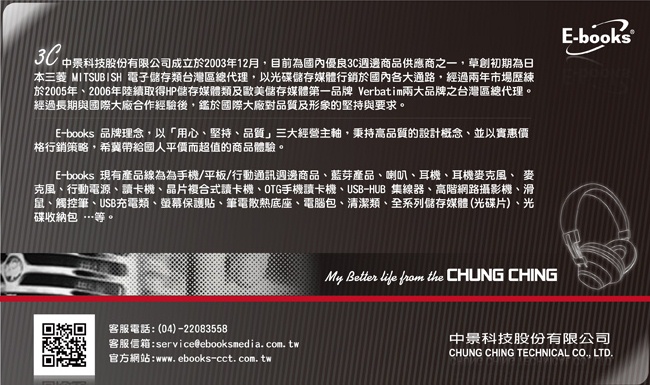 本商品規格

E-books S34 運動型軟矽膠音控接聽氣密耳機 ■顏色:鐵灰 ■包裝重量:約63g(含產品) ■產品重量:約19g ■商品尺寸:耳機本體2.1(L)x3(W)x5.9(H) cm 音控器4(L)x0.7(W)x0.5(H) cm ■包裝尺寸:4(L)x9.5(W)x17(H) cm ■產品規格 1.喇叭直徑/Speaker:10mm 2.響應範圍/Frequency Response:20-20,000Hz 3.插針/Plug:φ3.5mm 4段立體聲鍍金插針 4.阻抗/Impedance:32Ω 5.額定功率:15mW 6.功率容量:150mW 7.麥克風/Microphone Unit:4×1.5/-42dB±3dB 8.靈敏度/Sensitivity:97±3dB S.P.L at 1KHz 9.線長/Cable Length:1.2M±0.03M ■產品特色 ‧耳掛設計 運動中不脫落。 ‧運動型軟式矽膠,耐久配戴。 ‧支援手機通話及音樂撥放。 .音質清晰乾淨,音效充足飽滿。 .內建接聽鍵 / 附音量調節器 / 隱藏式麥克風。 ‧適用於平板電腦、單插孔筆電、智慧手機。 ‧支援Android / ios / iPhone / iPad系統之智慧手機麥克風接聽功能。 ●產品規格若敘述有誤,請以官網公告最新資訊為準。www.ebooks-cct.com.tw ●保固說明:非人為因素之損壞,原廠保固3個月 ●使用前請確實遵從產品說明書內之操作指示及注意事項 ●如需辦理退換貨,包裝與配件須完整(商品配件、包裝完整,無刮痕損傷)。 ●產品圖片可能會因網頁呈現與拍攝關係產生色差,僅供參考,請依實際供貨商品樣式為準。
| Zone | Order Total (RM) | Delivery Fee (RM) |
| --- | --- | --- |
| West Malaysia | Below 150.00 | 19.00 |
| | Above 150.00 | FREE Shipping |
| East Malaysia | Flat Rate | 29.00 |
Shipping Info
Order process take 4~7 days, and international shipping will take about 10~14 days

Important Notification:
1. PChomeSEA acts as a buying agent and does not provide product warranty.
2. Please check whether product specs (including voltage, plug type, frequency, etc.,) applys in your country.