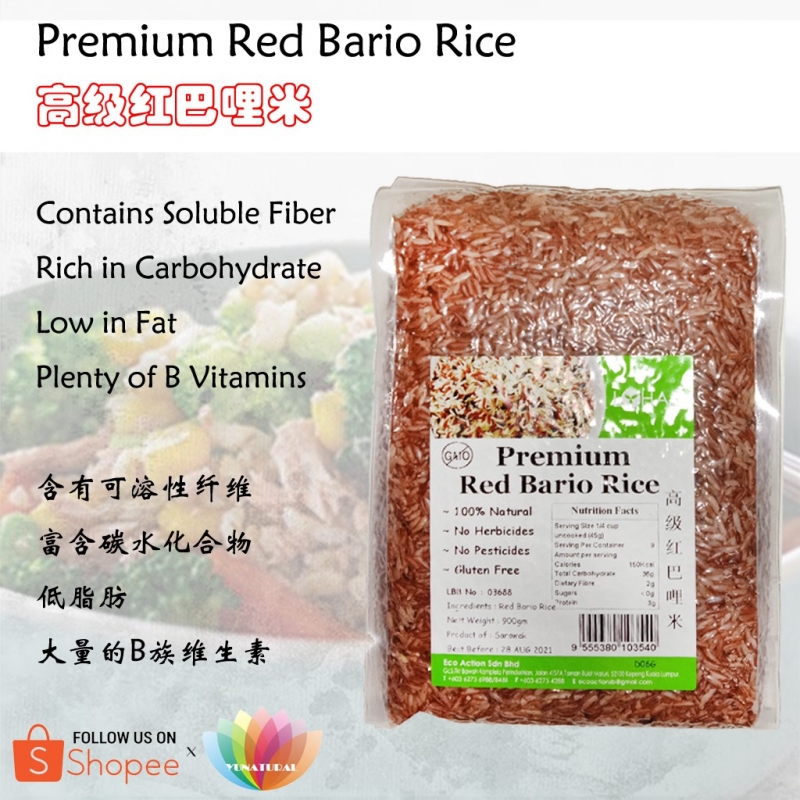 Origin: Local
Expiry Date: Between 9 to 15 months
Product Specifications / 产品规格
Product name/產品名字:LOHAS Premium Red Bario Rice 高级红巴哩米 900g
Brand 牌子:LOHAS
Ingredient/成份: Premium Red Bario Rice
Net weight/內容量:900g
Application/用途:Wash the rice twice and add the same amount of water to cook into rice. Or add more water to cook into porridge to enjoy.将米洗净两次,然后加入等量的水煮成米。 或加更多水煮至稀饭中享用。
Country of Origin/產地:Sarawak
Precautions/注意事項:Store in cool dry place/請放置陰涼處
Calories 卡路里(per每100g):374
Glycemic Index (GI)/ 升糖指数:62
-----------------------------------------------------------------------------------------------------------------------------------------------------------
=Product introduction/产品介绍=
Bario rice is a local product cultivated by hand with no pesticides or herbicides and represents a valuable ecological niche. The Kelabit tribe, who live solely in the highlands, grow the Presidium rice.
The Bario Rice has now been registered as product of Geographical Indication (GI) with the Malaysian Intellectual Property Organization (MyIPO).
巴里奥大米是当地手工种植的产品,没有农药或除草剂,代表着宝贵的生态环境。 仅居住在高地上的Kelabit部落种植了主席团稻米。
巴里奥稻米现已在马来西亚知识产权组织(MyIPO)中注册为地理标志(GI)产品。
=Benefit /益处=
good source of insoluble fibre
rich in carbohydrate
low in fat
plenty of B vitamins
contains only a trace of fat and no cholesterol
gluten free
easily digested
可溶性纤维的良好来源
富含碳水化合物
低脂肪
大量的B族维生素
仅含有微量脂肪,不含胆固醇
不含麸质
容易消化
=Suitable for people/适宜人群=
The average person can eat it.
一般人都能食用
=Attention / 注意=
因为运输路途遥远难免会有碰撞而导致产品有所损毁,但是并不会影响产品的品质,请安心使用。感谢您的理解。
because the transportation path is far away, it will inevitably cause collisions and cause damage to the product, but it will not affect the quality of the product, please use it with peace of mind . Thanks for your understanding .
| Zone | Weight | Delivery Fee (RM) |
| --- | --- | --- |
| West Malaysia | Extra 1.00 kg | 1.50 |
| | First 1.00 kg | 8.00 |
| East Malaysia - Sarawak | First 1.00 kg | 15.00 |
| | Extra 0.50 kg | 5.00 |
| East Malaysia - Sabah | First 1.00 kg | 17.00 |
| | Extra 0.50 kg | 6.00 |
| East Malaysia - Labuan | First 1.00 kg | 17.00 |
| | Extra 0.50 kg | 6.00 |