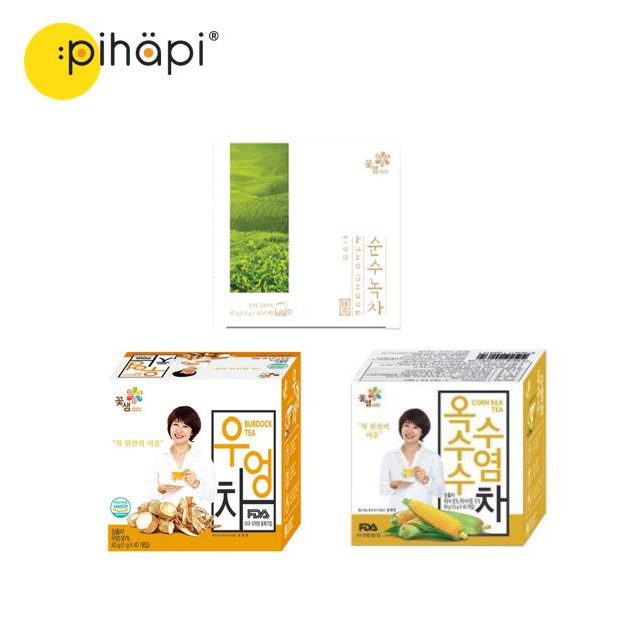 Size (length*width*height): 14cm x 9cm x 14cm
Origin: Imported
Expiry Date: More than 15 months
Certifications: Halal Certified
Corn Silk Tea 玉米须茶 (40TBx1.5g)
Korea's most popular health drink, smooth and mellow. In summer, add ice cubes or refrigerate, or add honey or sugar to taste. Corn silk tea has high fiber content and contains many nutrients.
韩国最流行的健康饮品,顺口香醇。夏天可加入冰块或冷藏,也可适量加入蜂蜜或糖调味。玉米须茶纤维质含量高,含有许多营养物质玉米须茶。
Ingredients: Corn, corn silk, brown rice 3%
成分: 玉米、玉米须、玄米3%
Burdock Tea 牛蒡茶 (40TBx1g)
Burdock root Tea is an effective weight loss tea popular in Korea today. Burdock, best known as a blood purifier, helps to drain uric acid and clean the kidneys. Burdock helps to neutralize and reduce poisons in our body, it contains vitamins B complex, E and protein, which enhances immunity.
Ingredients : Burdock 50%, Germinated Brown rice 50%
成分: 牛蒡50%,发芽糙米50%
Green Tea 绿茶 (40TBx1.5g)
Rich In Vitamin C And Contains Antioxidant Which Slowing Down Aging Process.
Ingredients : Green tea 100%
成分:绿茶100%
| Zone | Weight | Delivery Fee (RM) |
| --- | --- | --- |
| West Malaysia | First 1.00 kg | 4.80 |
| | Extra 1.00 kg | 2.00 |
| East Malaysia | First 1.00 kg | 13.00 |
| | Extra 1.00 kg | 9.00 |
| Austria, Denmark, Finland,Mexico,Ireland, Switzerland | Extra 1.00 kg | 40.91 |
| Brunei, Cambodia, Laos | First 0.50 kg | 51.01 |
| | Extra 1.00 kg | 51.98 |
| Belgium,France, Germany, Netherlands, Spain, U.K | First 0.50 kg | 64.19 |
| | Extra 1.00 kg | 36.71 |
| China | First 0.50 kg | 42.18 |
| | Extra 1.00 kg | 33.78 |
| Bangladesh,Brazil,Iraq, Pakistan,Qatar, Russia, S.Arabia, UAE | First 0.50 kg | 59.32 |
| | Extra 1.00 kg | 43.21 |
| Ghana, Mongolia,South Africa | First 0.50 kg | 70.68 |
| | Extra 1.00 kg | 61.37 |
| Philippines | First 0.50 kg | 44.79 |
| | Extra 1.00 kg | 33.86 |
| Canada, United States | First 0.50 kg | 60.55 |
| | Extra 1.00 kg | 43.09 |
| Hong Kong | First 0.50 kg | 31.95 |
| | Extra 1.00 kg | 28.42 |
| India | First 0.50 kg | 51.01 |
| | Extra 1.00 kg | 40.15 |
| Indonesia | First 0.50 kg | 51.38 |
| | Extra 1.00 kg | 42.37 |
| Japan | First 0.50 kg | 45.74 |
| | Extra 1.00 kg | 39.48 |
| Macau | First 0.50 kg | 55.46 |
| | Extra 1.00 kg | 38.50 |
| Singapore | First 0.50 kg | 32.83 |
| | Extra 1.00 kg | 26.99 |
| Taiwan | First 0.50 kg | 36.17 |
| | Extra 1.00 kg | 33.20 |
| Thailand | First 0.50 kg | 39.41 |
| | Extra 1.00 kg | 31.73 |
| Vietnam | First 0.50 kg | 60.55 |
| | Extra 1.00 kg | 39.82 |