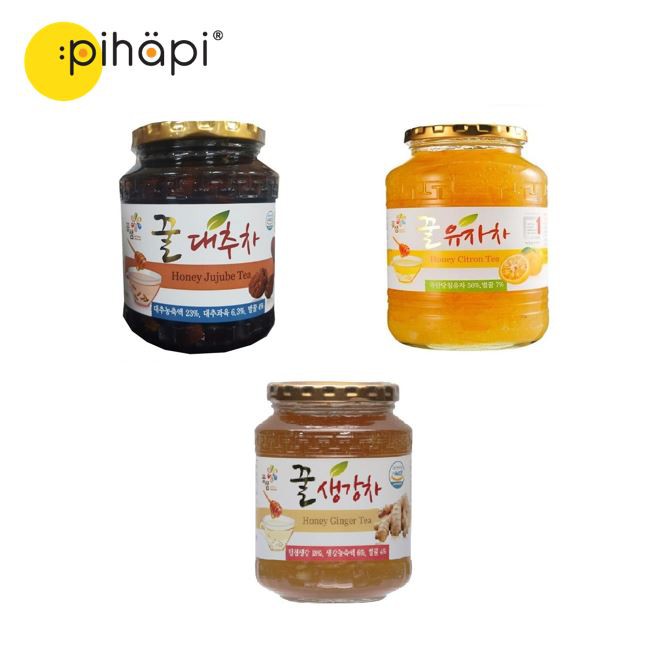 Size (length*width*height): 9cm x 9cm x 12cm
Origin: Imported
Expiry Date: Between 6 to 9 months
Certifications: Halal Certified
3 Flavours Available:
-Citron
-Jujube
-Ginger
How To Serve:
1. Pour 2 or 3 scoops in hot water and enjoy hot honey tea.
2. Stir 2 or 3 scoops in a cup of cool water and enjoy a cool honey tea. Or make and enjoy whatever you want with such a marmalade.
3. Enjoy as a jam, in marinades, dressings, desserts, etc.
Citron tea
Full of Vitamin C that is good for your skin and for preventing colds. Citrus is also abundant in natural citric acid to treat fatigue and colds, and to enhance metabolism and immunity.
This is a traditional tea added sweet honey. It is made in the southern coast of the Republic of Korea and it is also suitable for the taste of customers who need to rest.
Ingredients and contents: Sugared citron (citron 50%, refined sugar 50%) 56.00%, Honey 7.00%, Fructose 25.00%, Refined sugar 8.50%, Citric acid 0.60%, Sodium citrate 0.30%, Carrageenan 0.20%, Vitamin C 0.10%, Purified water 2.30%
Nutrients: Calories 50kcal, Protein 0g (0%), Carbohydrate 12g (4%), Sugar 11g, Fat 0g (0%), Saturated fat 0g (0%), Trans fat 0g, Cholesterol 0g (0%), Sodium 30g (2%)
Jujube
Jujube is full of protein and contains organic acids, Vitamins A and C, a little bit of calcium, and various kinds of amino acids. When enjoyed for a long time, it can strengthen your stomach.
Ingredients and Flavor: Jujube concentrate (solid content 8%) 23.00% Jujube 6.30% Honey 40% Liquid fructose 45.785% White sugar 17.00%, syrup 1.30%, carrageenan 0.10% citric acid 0.02%, purified water 2.50%
Nutrients : Calories 50kcal, Protein 0g Carbohydrate 12g (4%), Sugar 1g, Protein 0g (0%) Fat 0g (0%) Sat Fat 0g Trans Fat 0g Cholesterol 0mg Sodium 10mg (0%)
Ginger
Ginger warms up the kidney and it relieves fever and toxicity. It is used to prevent cold and treat headache, chronic gastric disease, and sneezing. It also enhances the metabolism to control body fat and weight.
Ingredients: Fructose 39.25%, sugar 25%, ginger (sweetened) 15%, honey 7%, ginger concentrate 6%, ginger oleoresin 4%, water 2.5%, corn syrup 1%, acid E330, carrageenan
| Zone | Weight | Delivery Fee (RM) |
| --- | --- | --- |
| West Malaysia | First 1.00 kg | 4.80 |
| | Extra 1.00 kg | 2.00 |
| East Malaysia | First 1.00 kg | 13.00 |
| | Extra 1.00 kg | 9.00 |
| Austria, Denmark, Finland,Mexico,Ireland, Switzerland | Extra 1.00 kg | 40.91 |
| Brunei, Cambodia, Laos | First 0.50 kg | 51.01 |
| | Extra 1.00 kg | 51.98 |
| Belgium,France, Germany, Netherlands, Spain, U.K | First 0.50 kg | 64.19 |
| | Extra 1.00 kg | 36.71 |
| China | First 0.50 kg | 42.18 |
| | Extra 1.00 kg | 33.78 |
| Bangladesh,Brazil,Iraq, Pakistan,Qatar, Russia, S.Arabia, UAE | First 0.50 kg | 59.32 |
| | Extra 1.00 kg | 43.21 |
| Ghana, Mongolia,South Africa | First 0.50 kg | 70.68 |
| | Extra 1.00 kg | 61.37 |
| Philippines | First 0.50 kg | 44.79 |
| | Extra 1.00 kg | 33.86 |
| Canada, United States | First 0.50 kg | 60.55 |
| | Extra 1.00 kg | 43.09 |
| Hong Kong | First 0.50 kg | 31.95 |
| | Extra 1.00 kg | 28.42 |
| India | First 0.50 kg | 51.01 |
| | Extra 1.00 kg | 40.15 |
| Indonesia | First 0.50 kg | 51.38 |
| | Extra 1.00 kg | 42.37 |
| Japan | First 0.50 kg | 45.74 |
| | Extra 1.00 kg | 39.48 |
| Macau | First 0.50 kg | 55.46 |
| | Extra 1.00 kg | 38.50 |
| Singapore | First 0.50 kg | 32.83 |
| | Extra 1.00 kg | 26.99 |
| Taiwan | First 0.50 kg | 36.17 |
| | Extra 1.00 kg | 33.20 |
| Thailand | First 0.50 kg | 39.41 |
| | Extra 1.00 kg | 31.73 |
| Vietnam | First 0.50 kg | 60.55 |
| | Extra 1.00 kg | 39.82 |