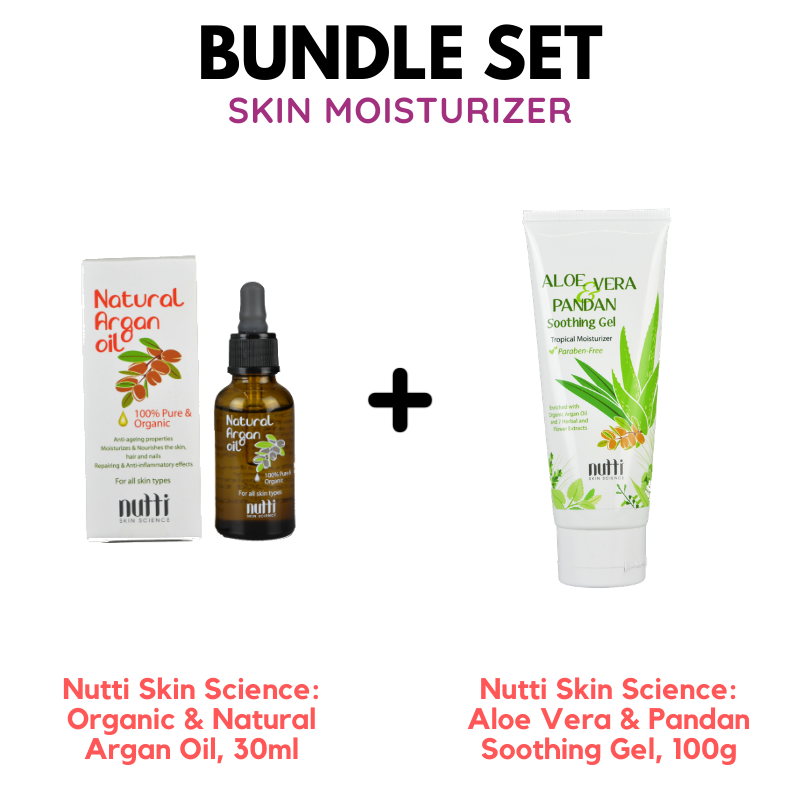 PRODUCT DESCRIPTION:

Argan Oil:
Argan Oil is extracted from Argan fruits. Argan trees are found only in Morocco. It takes 12 years for an Argan tree to bear first fruits. Nutti Natural Argan Oil is obtained from cold pressing the Argan seeds. There is no chemical process involved in the manufacturing of our Argan Oil. Thus it is totally natural products. Argan Oil has been used by the Moroccan people for centuries for skin care and as edible oil. It is known as the "Moroccan liquid gold".

Soothing Gel:
Nutti Aloe Vera & Pandan Soothing Gel is made from some of nature's best plants. Pandan is a tropical plant growth in Southeast Asia. Besides its popularity in culinary, Pandan has many therapeutic values which are good for the body and skin. Argan Oil from Morocco is rich in Vitamin E, which protects the skin, while the seven herbal and flower extracts help to soothe the skin.

PRODUCT BENEFITS:

Argan Oil:
Vitamin E - It is naturally rich in Vitamin E which prevents free radical damage and reduces signs of aging
Fatty acids - It contains essential fatty acids which moisturizes and nourishes the skin
Polyphenols - It possesses polyphenols which have repairing and anti-inflammatory effects

Soothing Gel:
The versatile Aloe Vera is well known for moisturizing and soothing the skin, and together with these wonderful substances, you will find Nutti Aloe Vera & Pandan Soothing Gel excellent for your skin, everyday and after-sun.

PRODUCT INGREDIENTS:

Argan Oil:
0% Additives
0% Preservatives
100% Natural Argan Oil

Soothing Gel:
Aloe Vera
Pandan
Argan Oil
7 Herbal & Flower Extracts (Gotu Kola, Rosemary, Japanese Knotweed, Baikal Skullcap, Tea Leaves, Licorice Root, Chamomile)

INSTRUCTIONS:
​
Argan Oil:
Due to its various benefits, Nutti Natural Argan Oil is suitable for use by men and women and even children. Nutti Natural Argan Oil is suitable for face, body, hair, nails, stretch marks, scars, cracked heels and other areas. It can be applied anytime of the day. Argan Oil is easily absorbed into the skin, and it is non-greasy.

Soothing Gel:
Apply onto the skin (avoid eye area) and massage gently until it is fully absorbed into the skin.

Note:
For external use only. Avoid contact with eyes. Keep out of reach of children. Persons who are allergic to nut or natural plant based products are advised to consult their doctors before using this products.
| Zone | Weight | Delivery Fee (RM) |
| --- | --- | --- |
| East Malaysia (Sabah & Sarawak) | First 1.00 kg | 18.00 |
| | Extra 1.00 kg | 15.00 |
| Peninsular Malaysia | First 2.00 kg | 10.00 |
| | Extra 1.00 kg | 3.00 |
| Singapore | First 1.00 kg | 38.00 |
| | Extra 0.50 kg | 12.00 |
| Brunei, Indonesia, Philippines & Thailand | First 0.50 kg | 89.80 |
| | Extra 0.50 kg | 25.40 |
| Vietnam & Cambodia | First 0.50 kg | 149.60 |
| | Extra 0.50 kg | 36.00 |
| Laos & Myanmar | First 0.50 kg | 224.40 |
| | Extra 0.50 kg | 52.40 |
Order & Delivery Schedule
Delivery fee for each purchase will be determined by the weight and delivery destination based on the delivery rate and to be paid by the recipient.
All orders will be delivered via City-Link.
No delivery over weekends (Saturday and Sunday) and / or Public Holiday. Delays in delivering your order might be incurred due to holidays, extreme bad weather or any type of natural disaster.
No order accepted for delivery to any P.O. Box address.
We will deliver order to the delivery address specified in the online order form; hence, in the event of any unsuccessful delivery due to either absence in receiving order and / or wrong , incomplete delivery address; We will not be held responsible and / or bear any cost to re-route and /or to re-deliver parcel. It is therefore important to ensure delivery address filled in the form is correct.
We will also not be held responsible to refund full payment of order after paid and /or replace products if missing during the re-routing and / or re-delivery process due to wrong and /or incomplete delivery address given.
Delivery address cannot be changed / modified once order's transaction has been approved.
City-Link Express:
http://www.citylinkexpress.com
City-Link Express Hotline: 1-300-88-2489