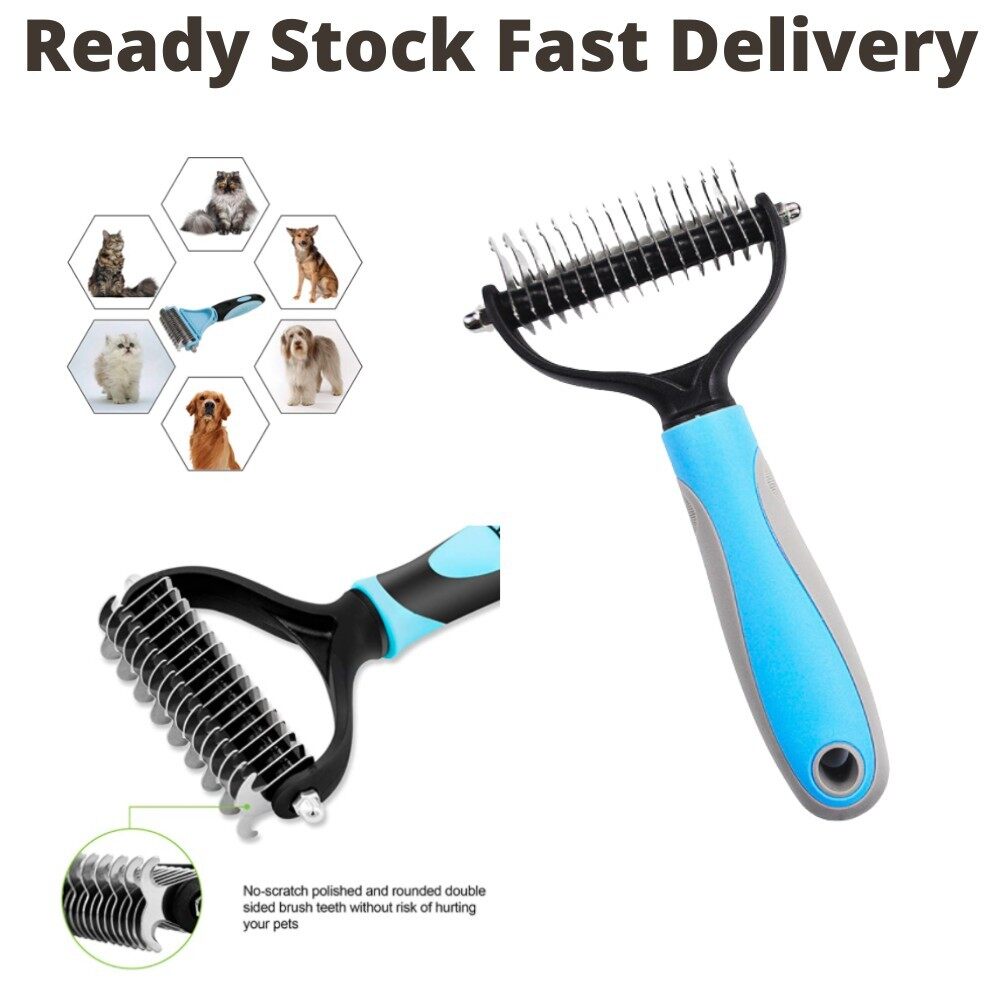 What's in the box:
[ Local Ready Stock ] Pet Grooming Tool - Double Sided Undercoat Rake for Cats & Dogs Safe Dematting Comb for Easy Mats & Tangles Removing
Ready Stock In Malaysia,
Fast delivery.
100% satisfaction.
About this item:
2-in-1 dual head
- Start with teeth side for stubborn mats and tangles and finish with teeth side for thinning and deshedding. Achieve faster and more professional dematting and grooming results
Absolutely safe to your pet
- No-scratch rounded outside teeth gently massage the pet skin. Meanwhile, the teeth inner side is sharp enough to smoothly cut through the toughest mats, tangles, and knots
Forget about shedding
- Regular brushing easily removes dead undercoats so no fur goes flying. Skin massage ensures better blood circulation promoting a healthy and shiny coat. Perfect for medium and long-haired pets
Enjoy comfortable brushing
- Soft ergonomic anti-slip grip makes regular combing convenient & relaxed. No-rust stainless steel teeth are ultra-durable & easy to clean
Make your grooming routine easy
- With this brush, you'll keep your pet attractive and home hair-free
2-in-1 DUAL HEAD & MULTI-PURPOSE
Our double-sided pet comb has a different number of teeth on each side. You can start with 12 teeth side as a de-matting rake for stubborn mats and tangles and finish with a 23 teeth side as a detangler, de-shedding tool, or undercoat rake for thinning and de-shedding. It is perfect for large and small breed animals with medium and long coats.
THE PERFECT DOG & CAT RAKE
Our rake for dematting effectively removes unwanted hair, eliminates loose and dead fur, shedding, mats, knots, tangles, hidden dirt, debris, and more from your pets coat. The precise and curved stainless steel hook can reach deep into a pets fur to help improving air circulation to the skin. When dematting and deshedding, the skin condition can also be checked so that you can find your pets skin problems as early as possible.
GET RID OF FUR WITHOUT HURTING IT
HOP Undercoat Dematting Rake has a sharp inner bend and a smooth bottom hook that allows you to effectively and safely remove dead, fuzzy undercoat in minutes. Completely comfortable and no pain, your pet will feel relax and enjoy and love to be brushed from now on.
ERGONOMIC and ECO-FRIENDLY HANDLE
Our rubber handle with a special curve consistent with the principles of ergonomics, that makes you much comfortable to grip. And the anti-slip design makes our comb much easier to operate. Made of ABS & TPR environmentally friendly material, the perfect choice for the environmentally-conscious consumer.
| Zone | Weight | Delivery Fee (RM) |
| --- | --- | --- |
| West Malaysia | First 2.00 kg | 7.00 |
| | Extra 1.00 kg | 1.00 |
| East Malaysia | First 1.00 kg | 12.00 |
| | Extra 1.00 kg | 2.00 |
| Australia, New Zealand | First 0.50 kg | 56.56 |
| | Extra 1.00 kg | 48.10 |
| Austria, Denmark, Finland,Mexico,Ireland, Switzerland | First 0.50 kg | 58.82 |
| | Extra 1.00 kg | 40.91 |
| Brunei, Cambodia, Laos | First 0.50 kg | 51.01 |
| | Extra 1.00 kg | 51.98 |
| Belgium,France, Germany, Netherlands, Spain, U.K | First 0.50 kg | 64.19 |
| | Extra 1.00 kg | 36.71 |
| China | First 0.50 kg | 42.18 |
| | Extra 1.00 kg | 33.78 |
| Bangladesh,Brazil,Iraq, Pakistan,Qatar, Russia, S.Arabia, UAE | First 0.50 kg | 59.32 |
| | Extra 1.00 kg | 43.21 |
| Ghana, Mongolia,South Africa | First 0.50 kg | 70.68 |
| | Extra 1.00 kg | 61.37 |
| Philippines | First 0.50 kg | 44.79 |
| | Extra 1.00 kg | 33.86 |
| Canada, United States | First 0.50 kg | 60.55 |
| | Extra 1.00 kg | 43.09 |
| Hong Kong | First 0.50 kg | 31.95 |
| | Extra 1.00 kg | 28.42 |
| India | First 0.50 kg | 51.01 |
| | Extra 1.00 kg | 40.15 |
| Indonesia | First 0.50 kg | 51.38 |
| | Extra 1.00 kg | 42.37 |
| Japan | First 0.50 kg | 45.74 |
| | Extra 1.00 kg | 39.48 |
| Macau | First 0.50 kg | 55.46 |
| | Extra 1.00 kg | 38.50 |
| Singapore | First 0.50 kg | 32.83 |
| | Extra 1.00 kg | 26.99 |
| Taiwan | First 0.50 kg | 36.17 |
| | Extra 1.00 kg | 33.20 |
| Thailand | First 0.50 kg | 39.41 |
| | Extra 1.00 kg | 31.73 |
| Vietnam | First 0.50 kg | 60.55 |
| | Extra 1.00 kg | 39.82 |