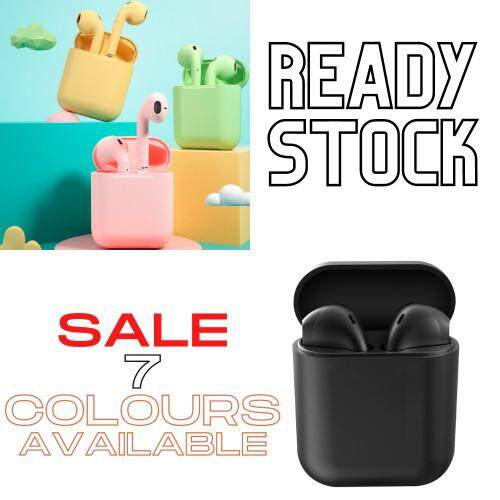 What's in the box:
1 X [ Local Ready Stock ] 2021 Model i12 inPods TWS Wireless BT 5.0 Earphone Earpiece Mini Earbuds Headset Mic Touch Control ( Black )
All our products are ready stock in Malaysia, original and fast delivery
Available in 7 Colours White, Pink, Black, Green, Blue, Yellow and Black
Description
Inpods i12 TWS Bluetooth 5.0 - In-Ear Headphones
Wireless Connection - 2 Simultaneous Devices - Bluetooth 5.0 - Lightweight - Microphone - Hands-free - Autonomy up to 3.5 hours - Multi Colours - Active Noise Reduction
Enjoying the best music is easier. We specialize in bringing you what you're looking for, the most spectacular headphones that are made for you.
And among them all, we have an incredible model, the new Inpods i12 InPods TWS Bluetooth 5.0, a spectacular model that looks like never before. A model with spectacular sound quality and that offers you everything you need to enjoy what you like most in the world. With an incredible finish and the best sound quality, it is a unique model. You will love it!
The best sound
This is the most outstanding feature. These new headphones offer you the best sound quality so you can listen to your music as if you were in a recording studio or in the front row of a concert. You'll enjoy your favorite songs like never before. Not only is this model designed to give you the best sound quality, but it also has a high-quality microphone that will allow you to make calls without any problems thanks to its ambient noise reduction technology. A spectacular model.
Full control
In addition to its incredible sound quality, it also gives you unique control, especially suitable for use in all situations. Firstly, it has the latest Bluetooth v5.0 technology, which gives you great usability and allows you to use it stably with your smartphone. Each headphone can be used separately allowing you to connect it to two different devices without having any problem using it. You will be able to use it in your daily life without any problem.
A great battery
Not only does it have spectacular sound and connectivity, but it also offers unique use with its large battery. So this model features a long duration of use, allowing you to use it for many hours. Up to 2.5 hours of uninterrupted use per charge One of the best headphones, you'll ever find.
Available in several colours
These headphones have been created to suit all users. So you can choose the model you like best thanks to its many colors, such as white, grey, yellow, pink, green, black and blue.
Get the best headphones of the moment, the new Inpods i12 TWS Bluetooth 5.0.
Package contents:
2 x Inpods i12 TWS Bluetooth 5.0 - In-Ear Headphones
1 x USB Charging Cable
1 x User Manual
1 x Charging case
| Zone | Weight | Delivery Fee (RM) |
| --- | --- | --- |
| West Malaysia | First 2.00 kg | 7.00 |
| | Extra 1.00 kg | 1.00 |
| East Malaysia | First 1.00 kg | 12.00 |
| | Extra 1.00 kg | 2.00 |
| Australia, New Zealand | First 1.00 kg | 142.27 |
| | Extra 0.50 kg | 45.38 |
| Austria, Denmark, Finland, Ireland, Switzerland, Russia | First 1.00 kg | 145.44 |
| | Extra 0.50 kg | 19.75 |
| Brunei, Cambodia, Laos, Mongolia | First 1.00 kg | 162.64 |
| | Extra 0.50 kg | 80.93 |
| Belgium,France, Germany, Netherlands, Spain, U.K | First 1.00 kg | 139.08 |
| | Extra 0.50 kg | 22.41 |
| China | First 1.00 kg | 89.58 |
| | Extra 0.50 kg | 23.55 |
| Bangladesh, Brazil, Iraq, Pakistan, Qatar, S.Arabia, UAE, Sri Lanka | First 1.00 kg | 108.97 |
| | Extra 0.50 kg | 15.79 |
| South Africa | First 1.00 kg | 108.97 |
| | Extra 0.50 kg | 15.79 |
| Philippines | First 1.00 kg | 84.92 |
| | Extra 0.50 kg | 14.20 |
| Canada, United States, Mexico | First 1.00 kg | 151.01 |
| | Extra 0.50 kg | 33.34 |
| Hong Kong | First 1.00 kg | 74.90 |
| | Extra 0.50 kg | 26.99 |
| India | First 1.00 kg | 105.24 |
| | Extra 0.50 kg | 17.68 |
| Indonesia | First 1.00 kg | 99.71 |
| | Extra 0.50 kg | 23.10 |
| Japan | First 1.00 kg | 104.93 |
| | Extra 0.50 kg | 32.54 |
| Macau | First 1.00 kg | 86.32 |
| | Extra 0.50 kg | 12.83 |
| Singapore | First 1.00 kg | 69.43 |
| | Extra 0.50 kg | 19.96 |
| Taiwan | First 1.00 kg | 87.71 |
| | Extra 0.50 kg | 32.29 |
| Thailand | First 1.00 kg | 87.41 |
| | Extra 0.50 kg | 26.24 |
| Vietnam | First 1.00 kg | 91.90 |
| | Extra 0.50 kg | 2.59 |