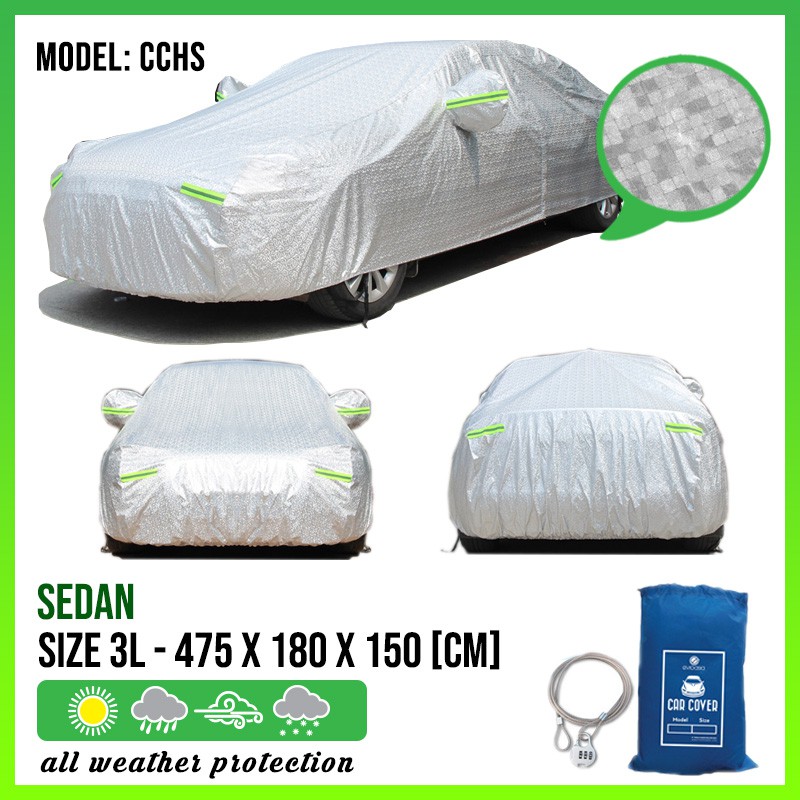 Size (length*width*height): 68cm x 13cm x 50cm
Manufacturing Country: Malaysia
Model: Cm5 Pedal Auto
What's in the Box: Car Covers
Vehicle Model: All Vehicle Models
Full Car Covers
Car covers prevent minor damage and stop scratches from potentially occurring and this alone saves a homeowner thousands of dollars.
A car cover is like a piece of clothing for a car. It keeps it safe from being expose to the elements. Furthermore, the cover keeps the car clean when it is in storage for a long period of time.
-Non-absorbing solar reflective layer.
keeps your interior cool on sunny days & avoids sun damage.
-Super large size, full protection.
-Includes tie down straps.
Give extra added security against high winds
-Made of durable polypropylene material with cotton lining inside.
The lining is very smooth, abrasion resistant that safe and gentle to paintwork.
-Convenient & Humanization Design.
Zippered side door for easy access into car without removing the cover.
-Reflective strip on mirrors and car corners.
Reflective strips let people see your car easily at night to make it safer when parking off street.
- Come with security lock and cable.
Material
- Made on non-abrasive and mildew resistant, water repellent and lightweight.
- Made with water resistant material.
- Made of polypropylene cotton.
NOTE:
1.Our Car Cover is a water-resistant and breathable material and it is not waterproof (not breathable).
2.Moisture from below the car rising from the ground or air bound moisture will still get underneath the cover and will leave the car damp, condensating or sweating.
3.It is always worth removing the car cover occasionally to help dry everything off, a breathable material in certain conditions will have moisture under the cover, so any increase in air circulation is going to benefit the car and cover.
Notice: Please check your car measurement and compare with our Car Cover size guide. The car cover is 99.99% fit on all common car dimension excluding accessories and body kit fitted on the car. Please allow +/- 5cm-10cm difference due to manual measurement.
Size (3L)
- 475cm (length) X 180cm (width) X 150cm(height)
Suitable for car like :
-Honda Civic/ City
-Hyundai( Avante ,Elantra )
-Mazda(3,RX 8)
-Mercedes Benz A-Class Mercedes Benz CLA
-Mercedes Benz W123
-Nissan Sylphy,
-Proton( Persona ,Proton Preve)
-Renault Fluence
-Subaru V10
-Toyota Altis & Corona 1981
-Volkswagen Golf Estate.
No Returns, Refunds, or Exchanges for:
1. Defects and damages are due to misuse, fault of negligence or usage other than the normal and customary manner.
2. The product is modified, disassembled, or attempted repair by any person.
3. The Returns & Exchanges request is subject to Management approval. All defect claims will review and judge by the Management.
For more info about Return/Exchange, please contact our customer service team via Shopee "Chat Now".
| Zone | Weight | Delivery Fee (RM) |
| --- | --- | --- |
| West Malaysia | First 1.00 kg | 4.80 |
| | Extra 1.00 kg | 2.00 |
| East Malaysia | First 1.00 kg | 13.00 |
| | Extra 1.00 kg | 9.00 |
| Austria, Denmark, Finland,Mexico,Ireland, Switzerland | First 0.50 kg | 58.82 |
| | Extra 1.00 kg | 40.91 |
| Brunei, Cambodia, Laos | Extra 1.00 kg | 51.98 |
| Belgium,France, Germany, Netherlands, Spain, U.K | First 0.50 kg | 64.19 |
| | Extra 1.00 kg | 36.71 |
| China | First 0.50 kg | 42.18 |
| | Extra 1.00 kg | 33.78 |
| Bangladesh,Brazil,Iraq, Pakistan,Qatar, Russia, S.Arabia, UAE | First 0.50 kg | 59.32 |
| | Extra 1.00 kg | 43.21 |
| Ghana, Mongolia,South Africa | First 0.50 kg | 70.68 |
| | Extra 1.00 kg | 61.37 |
| Philippines | First 0.50 kg | 44.79 |
| | Extra 1.00 kg | 33.86 |
| Canada, United States | First 0.50 kg | 60.55 |
| | Extra 1.00 kg | 43.09 |
| Hong Kong | First 0.50 kg | 31.95 |
| | Extra 1.00 kg | 28.42 |
| India | First 0.50 kg | 51.01 |
| | Extra 1.00 kg | 40.15 |
| Indonesia | First 0.50 kg | 51.38 |
| | Extra 1.00 kg | 42.37 |
| Japan | First 0.50 kg | 45.74 |
| | Extra 1.00 kg | 39.48 |
| Macau | First 0.50 kg | 55.46 |
| | Extra 1.00 kg | 38.50 |
| Singapore | First 0.50 kg | 32.83 |
| | Extra 1.00 kg | 26.99 |
| Taiwan | First 0.50 kg | 36.17 |
| | Extra 1.00 kg | 33.20 |
| Thailand | First 0.50 kg | 39.41 |
| | Extra 1.00 kg | 31.73 |
| Vietnam | First 0.50 kg | 60.55 |
| | Extra 1.00 kg | 39.82 |
| INT | First 0.50 kg | 48.56 |
| | Extra 1.00 kg | 40.10 |