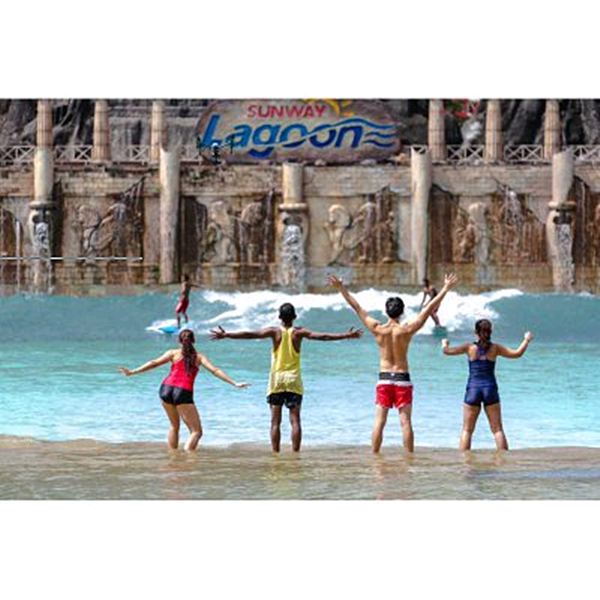 Validity Period
01 Jan 2017 - 30 Sep 2017

Terms and Conditions
- Children rates apply to those above 90cm in height and age 11 years old and below.
- FREE admission for children below 3 years old AND below 90cm in height.
- Lead traveler's name and date of travel will be printed on the E-Voucher and can't be changed after E-Voucher is issued
- Senior Citizen apply for age 60 and above. We are not selling ticket for Senior Citizen.
- NO REFUND due to rides closure or inclement weather.
- Not valid with any other ongoing offers, discounts, events and/or promotion, including Sunway Pals promotion.
- Sunway Lagoon Management reserves the right to refuse, alter, amend, delete or add to the stated terms and conditions or withdraw this promotion at any time without prior notice.
- It is passenger's responsibility to check carefully for any errors made in the booking details and travel vouchers immediately upon getting them.
- All packages are non-transferable and non-exchangeable.
- Tickets are not to be used for touting purpose.
- Other terms & conditions apply.

For any other details, kindly do not hesitate to contact iCosmos Enterprise at
+6012-3243498 (Call/SMS/WhatsApp)
icosmosenterprise@gmail.com
http://icosmosenterprise.com/product/sunwaylagoon-ticket
Redemption Instructions
VERY IMPORTANT (MUST READ):
Redemption of E-Voucher must be made with iCosmos Enterprise by email at-least 2 working days prior to your travelling date.

STEP 1:
- SMS/WhatsApp iCosmos Enterprise at +6012-3243498 to confirm ticket availability for your travelling date before purchase.

STEP 2:
- Make purchase at Youbeli.com .
- You will then receive Verification Codes and Order No through email.

STEP 3:
- Email the following details to icosmosenterprise@gmail.com to receive your official Sunway Lagoon E-voucher:

* Full Name as in IC/Passport (***Only Lead Traveller)
* Gender
* NRIC / Passport No.
* Nationality
* Contact No.
* Email
* Travelling Date to Sunway Lagoon
* No. of Adults
* No. of Children
* All Children's Age
* Order Number
* All Verification Codes

Step 4:
- iCosmos Enterprise Team will verify the info provided on Step 3 and process the E-Voucher within 2 working days (normally within 12 hours) and EMAIL the E-Voucher to the lead traveler.
- Lead Traveler to PRINT OUT the E-Voucher (PDF File)

STEP 5:
- Lead traveler redeems the admission tickets at the Sunway Lagoon ticketing counter by using the printed E-Voucher.
- Enjoy and have fun!

Note:
*** Lead Traveller is the person (representative) that will redeem the ticket(s) using the e-voucher at the Sunway Lagoon counter. Only need Lead Traveller's info. Do not need all travellers's info.
*** Order Number is located at Order Details
*** You will receive different separate emails with different verification codes based on the number of pax. Example: 5 tickets will have 5 separate emails with 5 different verification codes. Kindly provide all codes to us.
*** You will receive confirmation email with your E-voucher (PDF file) within 2 working days (normally within 12 hours) once the above information in Step 3 is sent to our email
*** Printed iCosmos Enterprise e-Voucher is to be presented for verification purposes to claim your Admission Ticket at Sunway Lagoon counter.
Outlet Locations
iCosmos Enterprise
05-05, PVC, Jalan 22/44, Sect 22,
Taman Aman, 46300,
Petaling Jaya, Selangor
Malaysia.

Office Working Hour: 9am to 9pm Daily.

+6012-3243498 (Call/SMS/WhatsApp)
icosmosenterprise@gmail.com
http://icosmosenterprise.com/product/sunwaylagoon-tickets/
GST Applicable
Exempted Rate
Sunway Lagoon Theme Park (All 6 Parks) Admission Ticket
(Water Park & Amusement Park & Wildlife Park & Extreme Park, Scream Park & Nickelodeon Lost Lagoon)
* Package includes 2 Sunway Lagoon Theme Park E-Tickets
*
This is excluding pay per ride: Bungy Jump, G-ForceX & Go-Kart.
* This is not inclusive of meal voucher.
* VERY Important: Please only purchase the voucher and provide the necessary info at least 2 days before your travelling dates. Do SMS/WhatsApp +6012-3243498 to check for tickets availability of your travelling dates before purchase. Refer "Redemption Instruction" for more information. Failure to do so will result in no e-voucher redemption.
*** FREE admission for children below 3 years old AND below 90cm in height.
*** E-Vouchers can be purchased by Malaysian and non-Malaysian. Same rate applies.
*** E-Vouchers can be used for Saturday, Sunday, Public Holiday and School Holiday.
*** Lead traveler's name and date of travel will be printed on the E-Voucher. Once E-Voucher is issued by iCosmos Enterprise, no amendment is allowed.
*** After received your Verification Codes and Order No. in your email after purchase, kindly email those info along with your personal details ASAP to icosmosenterprise@gmail.com in order to redeem your E-Voucher from iCosmos Enterprise. Refer Redemption Instruction Step 3 for more details . This info must be sent AT LEAST 2 working days prior to your travelling date . E.g. If you are travelling on 5th Jan 2016, it must be sent latest by 3rd Jan 2016.
*** Exact 1 date of travel need to be chosen. This date will be printed on the E-Voucher. This is not an open date E-Voucher. Only can choose one date of travel between 1st Sept 2016 to 31st Dec 2016.
*** Only E-Voucher issued by iCosmos Enterprise is accepted by Sunway Lagoon for admission. DO NOT USE the 11street Verification Codes or Order No. to gain access to Sunway Lagoon - no admission is allowed.
*** Lead Traveller to bring your Identification Card (IC) or Passport and the E-Voucher by iCosmos Enterprise for verification purposes during admission ticket (wristband) redemption at the Sunway Lagoon ticketing counter.
MAP:
https://goo.gl/maps/As5BAAVwYq62
2D1N Ruemz Hotel Matrixx Queen Room
Ruemz, Which is pronounced as Rooms, is the brainchild Southeast Asia's renowned Taylor's University School of Hospitality, Tourism and Culinary Arts (TCHT). The idea behind Ruemz came from its unique-hotel-in-a-campus concept at the award winning Taylor's University Lakeside Campus. Our room are not just modern-retreats for hotel guests, but also serve a progressive, training seminary for future hospitality management professionals. Ruemz comprises of a team of dedicated individual committed to providing hospitable and efficient service for our hotel guests. Our goal is to make every guest's experience enjoyable and to ensure friendly service is always at your disposal.
Address:
The Boardwalk, No.2, Jalan Taylor's, 47500 Subang Jaya, Selangor Dahrul Esan, Malaysia, Bandar Sunway
• Check-In Time : 14:00 • Check-Out Time : 12:00 • GMT Time : +08:00 - Malaysia
Hotel Features
Beauty salon

Bell/Porterage service

Cafe/coffee shop

Cash machine/ATM

Catering service

Concierge

Conference room

Dry cleaning service

Elevator/lift

First Aid Assistance

Fitness center

Food court

Front desk

Function room

Gift/sundry shop

Hair salon

Housekeeping

In-room Internet access

Indoor swimming pool

Information desk

Meeting room

Lobby

Non-Smoking Floor

Non-smoking room

Plasma TV

Restaurant

Safe deposit box

Security

Self parking

Smoke detector

Wakeup call service

Walking Area 32. Public Area WIFI
With so many goodies in store for you, wait no more, book you ticket now, and get ready for the unforgettable moment with your loved ones!
Transform your dreams into reality today!
| Zone | Order Total (RM) | Delivery Fee (RM) |
| --- | --- | --- |
| MY | Flat Rate | FREE |