[Name] STB360 of adult toothbrush (cool / neutral bristles) [Origin] Japan [head] 16.5mm diameter [shelf life] 10 years [ingredients] polypropylene (the handle), nylon (bristles), heat temperature of 90 degrees C [Features] 0.09mm fine bristles gently periodontal care, more thorough teeth cleaning, maintaining oral health special 360 degree bristle design, closer to the convex surface of the teeth and gums, easy to clean teeth. If you feel discomfort or irritation, stop using [Note] use.

團購網檔檔破千的熱銷商品!部落客激推!
100%日本原裝進口,由「達益購」總代理,
深受日本百萬人喜愛的STB蒲公英360度牙刷。
顛覆你的刷牙觀念!

柔軟刷毛改善牙齦出血情況,輕鬆深入後端臼齒,徹
底清除齒垢及牙菌斑,預防牙 周病,避免蛀牙發生!

甚至能當作舌苔刷及假牙刷,
在日本每年銷售百萬支,更在2013年榮獲日本設計大賞!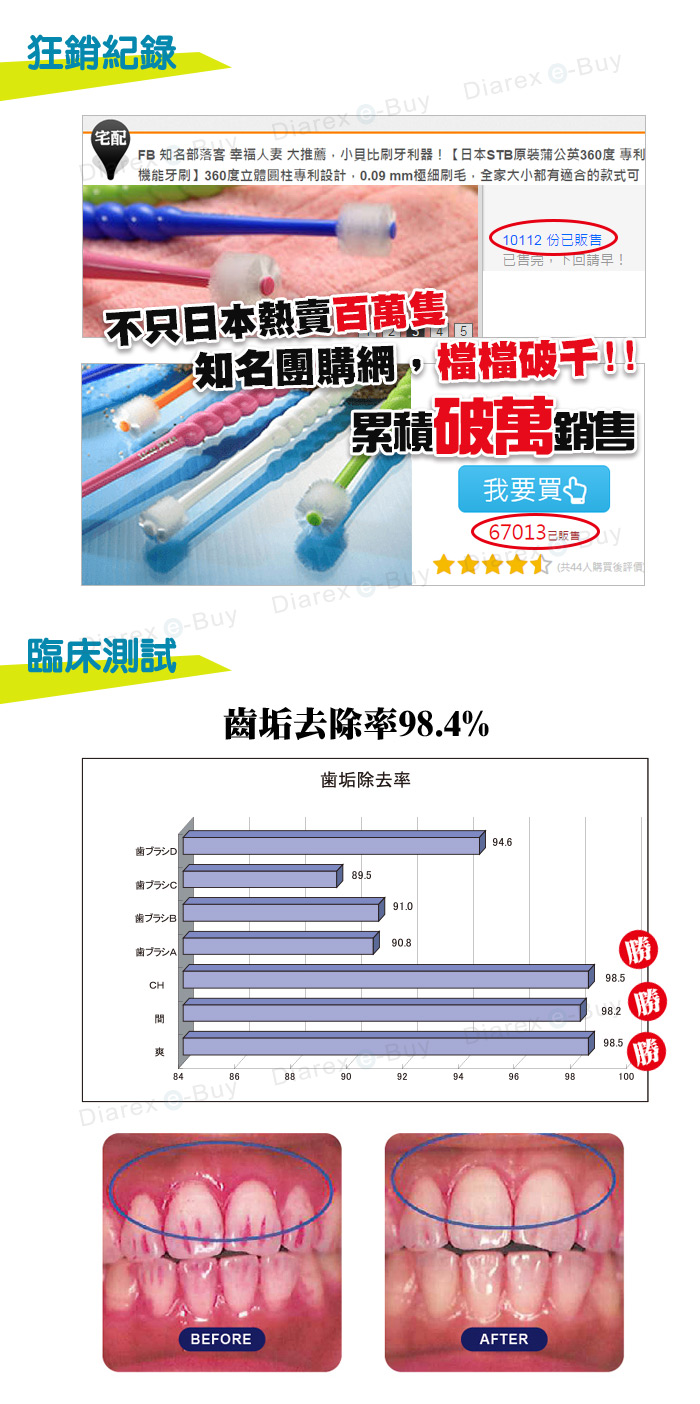 日本臨床測試達98.4%齒垢去除率!
360度清潔無死角。



培養良好的潔牙習慣,保持牙齒健康!
提供口腔保健最全方位的照護。
根據您牙齒情況做刷毛規格的選擇,牙周敏感者可先試用軟性刷毛(間),
一般使用者可先由中性刷毛(爽)試用,若不會疼痛且想增強清潔效果可
再改為較硬刷毛(CH)。

本商品規格

【品名】STB360度成人牙刷(爽/中性刷毛) 【產地】日本 【刷頭直徑】16.5mm 【保存期限】10年 【成分】聚丙烯(刷柄)、尼龍(刷毛)、耐熱溫度90度C 【特點】0.09mm極細刷毛,輕柔呵護牙周、更易深入牙縫清潔,維持口腔健康 特殊360度刷毛設計,可更貼近牙齒與牙齦的凹凸面,輕鬆潔牙。 【注意事項】使用時若感覺不適或刺激請停止使用。
| | | |
| --- | --- | --- |
| Zone | Weight | Delivery Fee (RM) |
| MY | First 0.10 kg | FREE |
| | Additional 0.10 kg | FREE |
Shipping Info
Order process take 1~3 days, and international shipping will take about 10~14 days

Important Notification:
1. PChomeSEA acts as a buying agent and does not provide product warranty.
2. Please check whether product specs (including voltage, plug type, frequency, etc.,) applys in your country.