Simple First Word:Let's Say Our Numbers 一起唸數字 硬頁有聲書(美國版)(外文書)
By pressing the buttons and matching the sounds to the pictures again and again,
children will quickly and easily learn to count and develop their speech.
Bright photographs and questions to encourage learning
on every page make counting fun. Now with even clearer audio!
本書介紹數字1到10,配合10個有聲按鈕,按一下按鈕聽發音,按鈕上有標明數
字,所以不會分不清楚,方便又好玩。這樣小朋友能夠很快地認識數字,並利
用書中顏色鮮明的圖案輕鬆學會數數,訓練手眼協調能力和發展說話能力。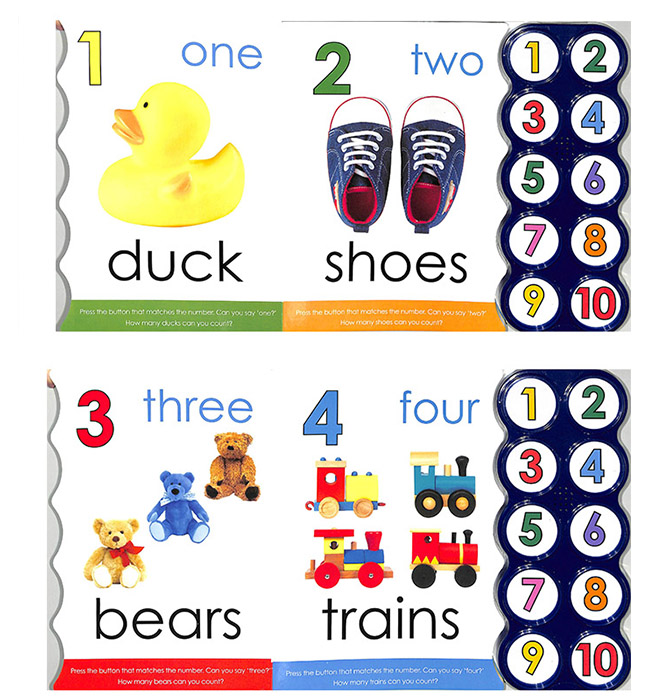 本商品規格

適讀年齡:1-3歲 尺寸:25.7x23.4cm 規格:硬頁/12頁
| Zone | Order Total (RM) | Delivery Fee (RM) |
| --- | --- | --- |
| MY | Below 88.00 | 19.00 |
| | Above 88.00 | FREE |
Shipping Info
Order process take 4~7 days, and international shipping will take about 10~14 days

Important Notification:
1. PChomeSEA acts as a buying agent and does not provide product warranty.
2. Please check whether product specs (including voltage, plug type, frequency, etc.,) applys in your country.