以色列【mezoome】Organic Cotton被毯-四季被-蜜桃紅
Dimensions: 80 x 100 cm Material: 100% GOTS certified organic cotton, organic cotton padding inside content: Organic quilts, dust bag design drawings: one side is mezoome designs, the other side as a single plain Brand Country: Israel Origin: Israel ● Washing instructions: Try to hand wash, machine wash To avoid using drum-type washing machine washing machine load the laundry bag, and with a slow soft wash in cold water with a general to avoid the use of high-temperature cleaning to avoid adding benzene... , phosphorus and other chemical detergent or softener can be neutral natural rub lotion after a little natural shade to dry. because product uses natural, non-toxic water-based dyes, no chemical fixative, the first washing may be slightly fade normal phenomenon.
以色列mezoome有機棉床寢 頂級嬰幼兒被毯
mezoome有機棉四季被
特選的有機棉花 稀有、珍貴
讓你第一次接觸就能感覺到mezoome的不同!
mezoome四季被質地極為柔軟、輕巧
一條可以從0歲開始使用的兒童棉被(嬰兒棉被)
附專用的棉被收納袋,方便幼稚園上學或旅遊時攜帶
不論室內保暖和戶外、車座上擋風都好用
一年四季都可派上用場的兒童棉被!嬰兒被推薦款!
mezoome品牌設計理念:
是讓家庭輕鬆妝點有個性、極舒適的床寢空間
滿足每個父母為寶貝們佈置小房間的快樂感!

採用GOTS認證有機棉花
原創設計的童趣印花圖樣皆使用環保水性染料(Azo Free)
是對寶貝、對環境都友善的高質感商品
天天貼身接觸寶貝的用品,提供100%的安心保障。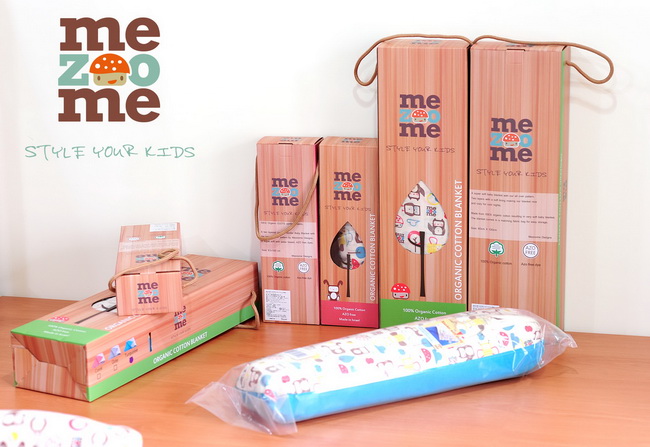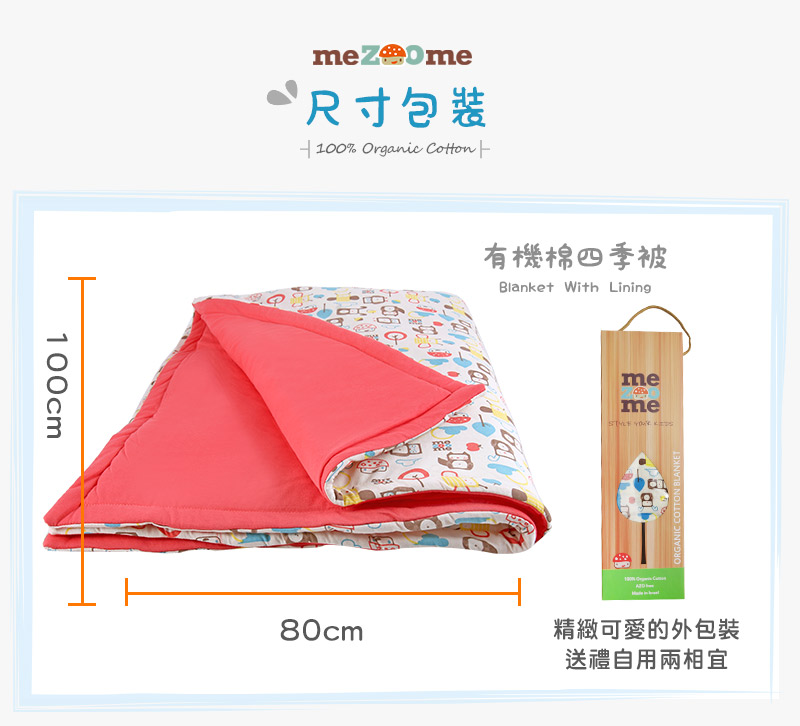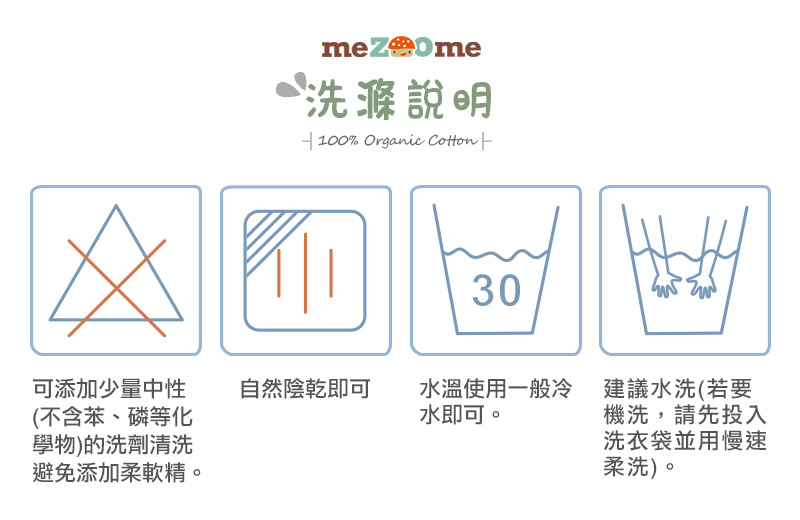 本商品規格

尺寸: 80 x 100 cm 材質: 100% GOTS認證有機棉,內裡有機棉填充 內容: 有機棉被、防塵棉被收納袋 圖樣設計: 正反面為mezoome印花圖案及素色不同設計 品牌國別: 以色列 產地: 以色列
備註

請盡量手洗,若需機洗請避免使用滾筒式洗衣機 機洗請裝入洗衣袋,並用慢速柔洗 請用一般冷水洗即可,避免使用高溫清洗 避免添加含苯,磷等化學洗劑或是柔軟精 可以中性天然洗劑稍微搓揉後自然蔭乾. 因產品使用天然無毒水性染料,沒有化學定色劑 第一次水洗可能會有些微掉色屬正常現象
| Zone | Order Total (RM) | Delivery Fee (RM) |
| --- | --- | --- |
| MY | Below 88.00 | 19.00 |
| | Above 88.00 | FREE |
Shipping Info
Order process take 4~7 days, and international shipping will take about 10~14 days

Important Notification:
1. PChomeSEA acts as a buying agent and does not provide product warranty.
2. Please check whether product specs (including voltage, plug type, frequency, etc.,) applys in your country.