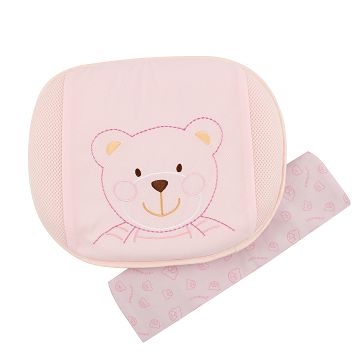 ?? Product Name: 3D Ultra breathable protective headrest - in Taiwan - ?? Product Features: Quick-drying material, can be directly washed the same type. 3D three-dimensional structure of the honeycomb vents, wicking quick-drying, so easy to sweat the baby sleep more secure and comfortable. Honeycomb structure with elastic shock-absorbing properties, can effectively support the spine height and amplitude of the first type designed for baby, best baby shape head shape. 3D breathable Netcom national standard CNS 15580-1 L3271, no free and hydrolyzed formaldehyde. ?? How to clean pillows: 1. pillowcases can always wash the washing machine, it is recommended to use a laundry bag, please dried after washing in the shade. 2. Pillow shall be by hand, often washing will reduce flexibility. 3. Please Pillow with warm water of 30 degrees C or less, use a neutral detergent, soak into the water, can be cleaned gently shaking. 4. Do not rub hard, use the shower rinse, then pat hand pillow, let excess water drop. 5. flat or vertical hanging in a cool place to dry naturally. Because the fabric characteristics, do not direct sun, high temperature easily lead to deformation. ?? Product specifications: ?? material: pillowcases: 100% cotton; pillow table cloth: 100% wicking fibers; Pillow mesh: 100% polyester; filling: 100% polyester fiber ?? Color: Pink ?? Size: 32 * 26 * 3.2CM ?? Note: ?? If off-line or damaged Do not use ?? should be used by an adult beside ?? Please pay attention to safety away from fire or extreme heat ?? ?? Do not let children use alone to avoid ?? baby chewing Origin: Taiwan ?? washing instructions: * washing machine weak speed, water temperature should not exceed 30 ?J. * No professional dry. * Do not bleach. * Do not tumble dry. * Flat to dry. * Can be ironing, can not exceed 110 ?X C.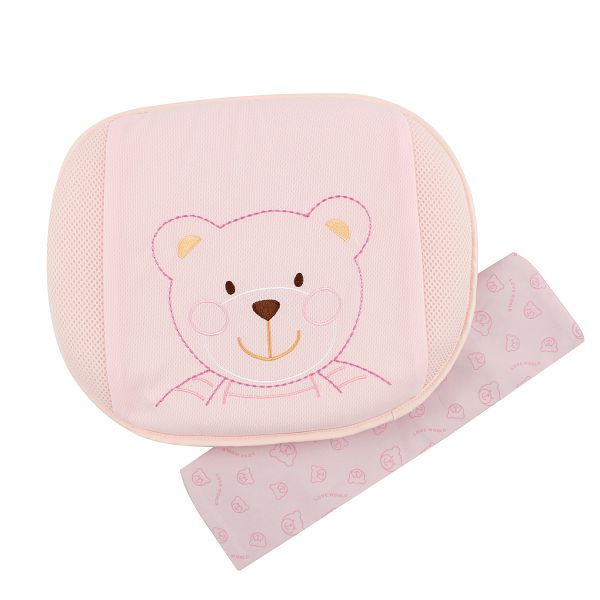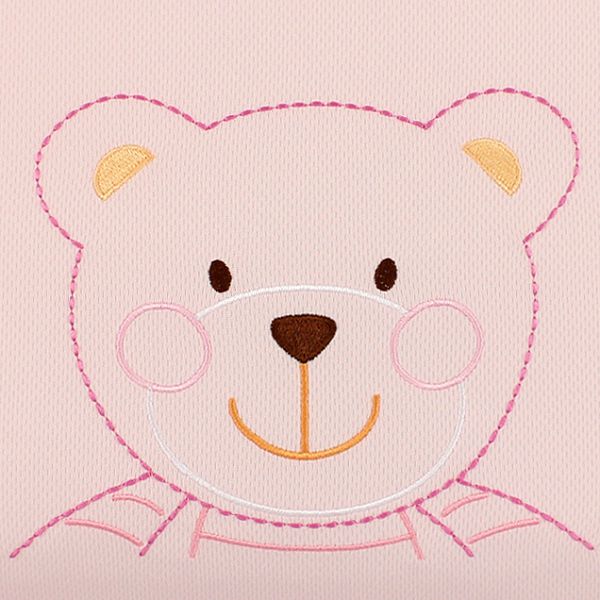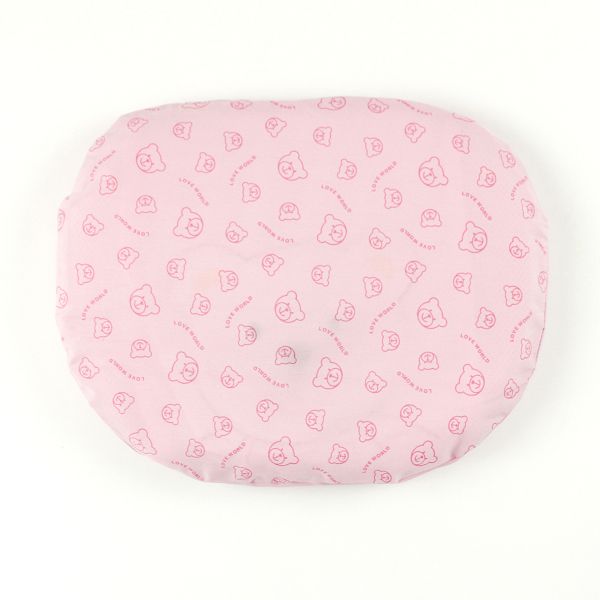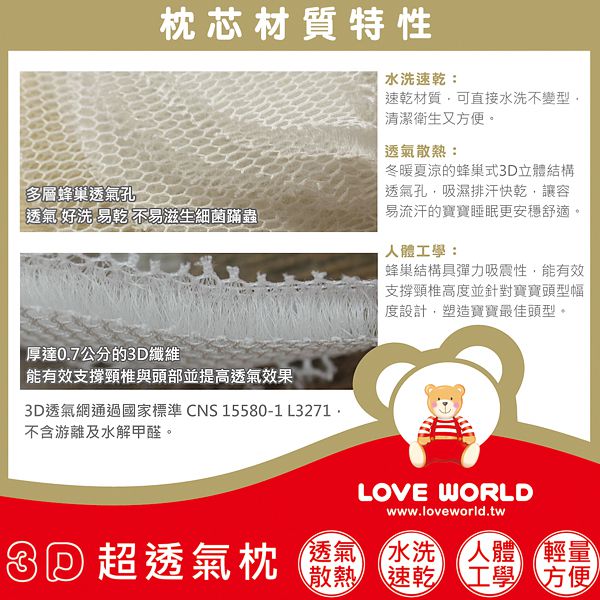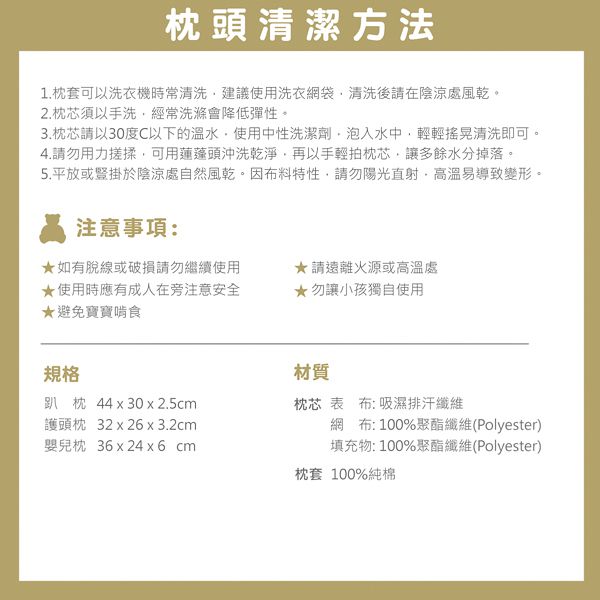 本商品規格

※商品名稱:3D超透氣護頭枕-台灣製- ※商品特色:速乾材質,可直接水洗不變型。蜂巢式3D立體結構透氣孔,吸濕排汗快乾,讓容易流汗的寶寶睡眠更安穩舒適。蜂巢結構具彈力吸震性,能有效支撐頸椎高度並針對寶寶頭型幅度設計,塑造寶寶最佳頭型。3D透氣網通過國家標準 CNS 15580-1 L3271,不含遊離及水解甲醛。 ※如何清洗枕頭: 1. 枕套可以洗衣機時常清洗,建議使用洗衣網袋,清洗後請在陰涼處風乾。 2. 枕芯須以手洗,經常洗滌會降低彈性。 3. 枕芯請以30度C以下的溫水,使用中性洗潔劑,泡入水中,輕輕搖晃清洗即可。 4. 請勿用力搓揉,可用蓮蓬頭沖洗乾淨,再以手輕拍枕芯,讓多餘水分掉落。 5. 平放或豎掛於陰涼處自然風乾。因布料特性,請勿陽直射,高溫易導致變形。 ※商品規格: ◆材質:枕套:100%棉;枕芯表布:100%吸濕排汗纖維;枕芯網布:100%聚酯纖維;填充物:100%聚酯纖維 ◆顏色:粉紅色 ◆尺寸:32*26*3.2CM ※注意事項: ★如有脫線或破損請勿繼續使用 ★使用時應有成人在旁注意安全 ★請遠離火源或高溫處 ★勿讓小孩獨自使用 ★避免寶寶啃食 ※產地:台灣 ※洗滌說明:*洗衣機弱速洗滌,水溫不可超過30℃。*不可專業乾洗。*不可漂白。*不可翻滾烘乾。*平攤晾乾。*可熨燙,不可超過110°C。
| Zone | Order Total (RM) | Delivery Fee (RM) |
| --- | --- | --- |
| MY | Below 88.00 | 19.00 |
| | Above 88.00 | FREE |
Shipping Info
Order process take 4~7 days, and international shipping will take about 10~14 days

Important Notification:
1. PChomeSEA acts as a buying agent and does not provide product warranty.
2. Please check whether product specs (including voltage, plug type, frequency, etc.,) applys in your country.