Product Name: ATake POLO wireless Bluetooth speaker detection of magnetic Model: ASP-699 Warranty: 1 year Power supply: DC 5V, Lithium Battery: Lithium battery (can be repeated charging and discharging) up to 4 hours of continuous playback (depending on volume and Play content) Battery capacity: 450 mAh Battery voltage: 3.7V Induction distance: 10m Rated power: 3W Charging Rated input: DC5V == 500mA Frequency Response: 50Hz - 18KHz Dimensions: 60mm (L) x 60mm (W) x 59mm (H) Weight: 106g ± 2g Manufacturer: Wiley Digital Technology (Shenzhen) Co., Ltd. Importer: Wiley Technology Co., Ltd.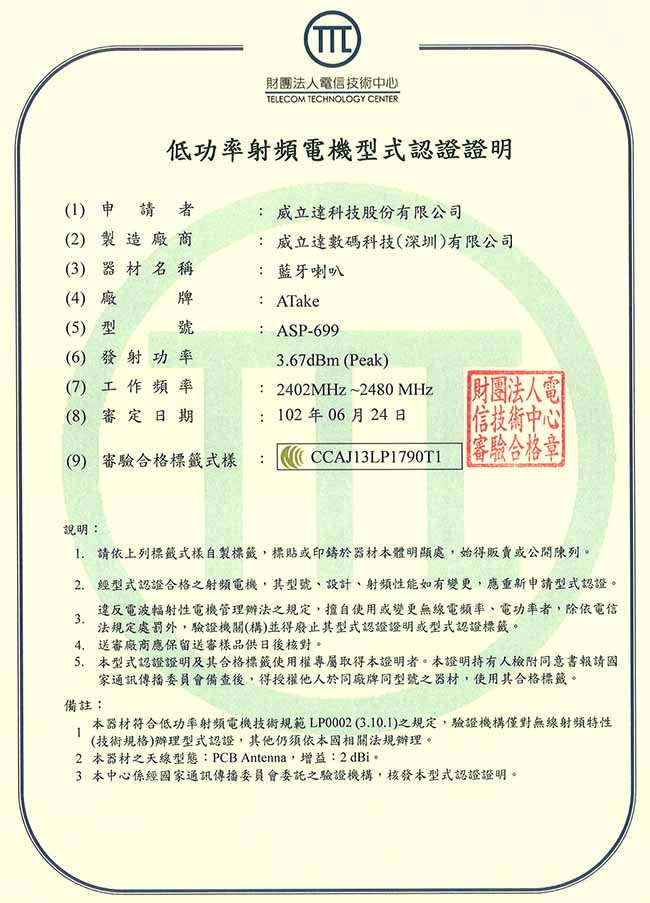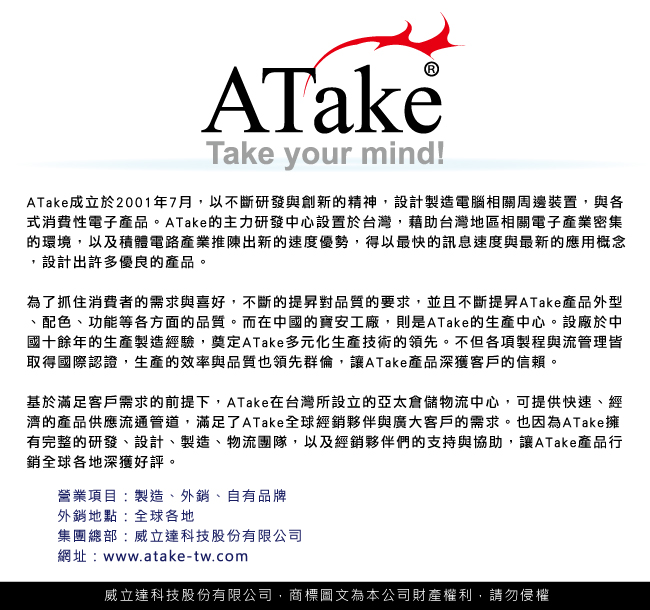 本商品規格

產品名稱:ATake POLO無線藍牙喇叭 檢磁型號:ASP-699 保固期限:1年 供電方式:DC 5V,鋰電池 電池規格:鋰電池(可重覆充放電)      最高可連續播放4小時(視音量及播放內容而定) 電池容量:450 mAh 電池電壓:3.7V 感應距離:10m 額定功率:3W 充電額定輸入:DC5V==500mA 頻率響應範圍:50Hz - 18KHz 產品尺寸:60mm(L) x 60mm(W) x 59mm(H) 重量:106g±2g 製造商:威立達數碼科技(深圳)有限公司 進口商:威立達科技股份有限公司
| Zone | Order Total (RM) | Delivery Fee (RM) |
| --- | --- | --- |
| MY | Below 88.00 | 19.00 |
| | Above 88.00 | FREE |
Shipping Info
Order process take 4~7 days, and international shipping will take about 10~14 days

Important Notification:
1. PChomeSEA acts as a buying agent and does not provide product warranty.
2. Please check whether product specs (including voltage, plug type, frequency, etc.,) applys in your country.