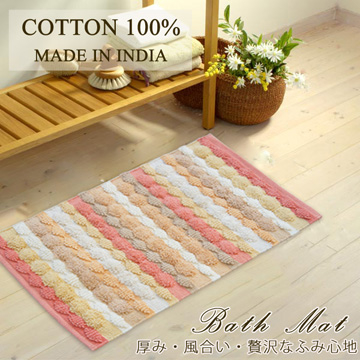 . Product content ?w mats x1. Material ?w100% COTTON (cotton double-sided). Size ?w about 45x70cm (?? 5%). ?w Indian origin. Number ?w1 into. Color ?w such as product icons, web picture slightly different because of the shooting and the screen is set, therefore, the actual product, the actual color of the delivery-based. Cleaning methods can be machine washed ?w (Please weak speed processing, and shorten the washing process) / dry naturally, do not use the dryer heat drying ?? this commodity Pictured illustrated with reference scenario, the product content specification narrative prevail.
《Spun Sugar》進口雙面純棉踏墊 ,採用100%高品質純棉,讓腳底立即體驗柔軟觸感,搭配清新典雅的色彩,可說是居家生活不可缺少的家飾紡織品;質感舒適柔軟,吸水性超強,在沐浴完後,可迅速吸收腳底水珠,保持地面乾爽,避免因水滴而滑倒;立體編織圖騰,獨特的設計風格,典雅中又帶點活潑,適合置於浴缸前或浴室門口,亦可當做傢俱或家中擺飾品之隔離墊使用,避免刮損木質地板。超便利的清洗方式,放入洗衣機水洗即可,輕鬆又省事喔!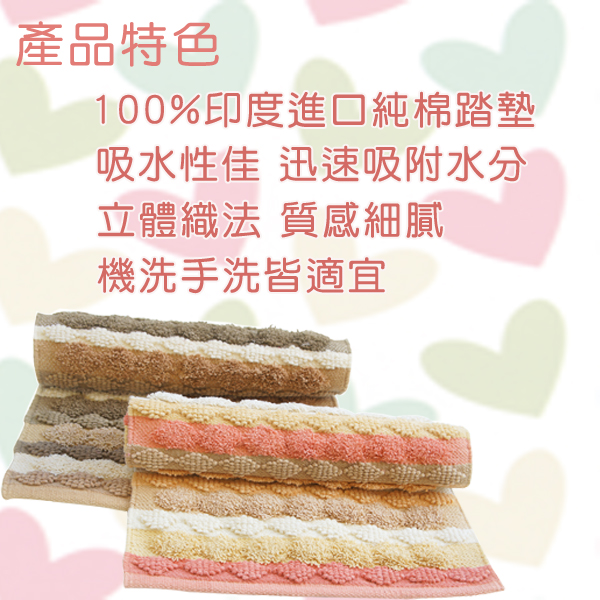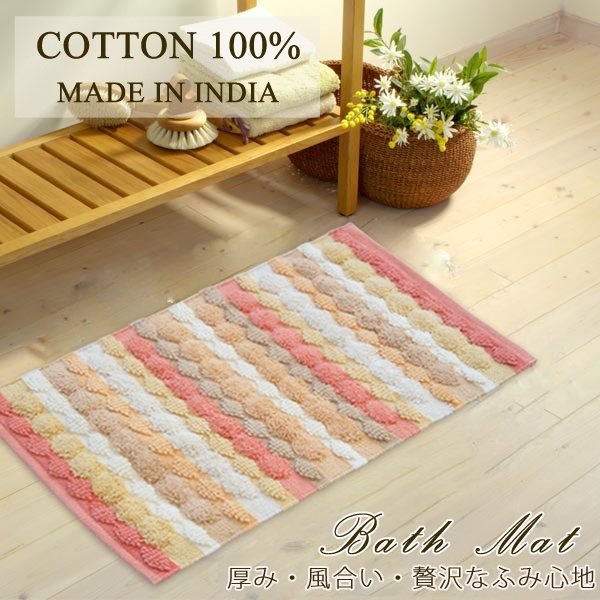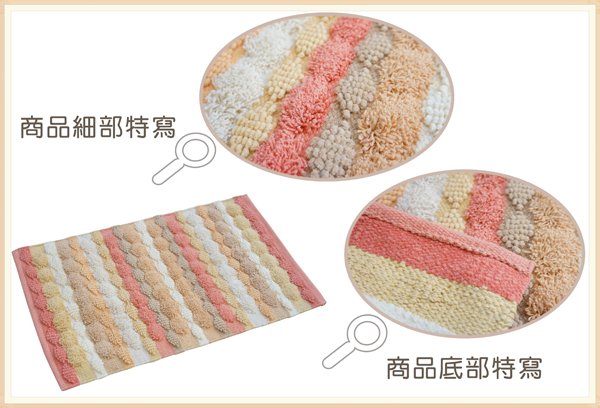 本商品規格

.產品內容─踏墊x1 .材質─100%COTTON(雙面純棉) .尺寸─約45x70cm(±5%) .產地─印度 .數量─1入 .顏色─如產品圖示,網頁圖片因拍攝與螢幕設定之故,與實品略有差異,實際顏色以出貨為主 .清洗方式─可機器水洗(請以弱速處理,並縮短洗滌行程)/自然風乾,勿使用烘乾機熱烘 ◆此商品圖為參考用之情境圖示,產品內容以規格敘述內容為準。
備註

因為此款純棉踏墊採100%天然棉花,手感細緻織法細密、吸水力強,初期使用多少會產生棉絮,第一次下水會有少許棉絮浮於水上為正常現象。 建議可用吸塵器吸取多餘棉絮,或以清水清洗,掉棉絮情況可有效減少! (另提醒:清洗時,水溫勿高於40度,勿烘乾與熨燙)
| Zone | Order Total (RM) | Delivery Fee (RM) |
| --- | --- | --- |
| MY | Below 88.00 | 19.00 |
| | Above 88.00 | FREE |
Shipping Info
Order process take 4~7 days, and international shipping will take about 10~14 days

Important Notification:
1. PChomeSEA acts as a buying agent and does not provide product warranty.
2. Please check whether product specs (including voltage, plug type, frequency, etc.,) applys in your country.