This Cotton mats because mining 100% natural cotton feel fine weave fine, absorbent and strong, how much use will have early batting, batting first a little water will float on water as normal. Recommend extra batting available vacuum cleaner, or rinse out, batting out the case can effectively reduce (Another reminder: When cleaning, do not water temperature above 40 degrees, not drying and ironing)!
談到衛浴空間,這個讓人在沐浴中完全舒壓放鬆,褪去一天疲勞的地方,在沐浴完後,畫下美麗句點的家飾浴墊,可是一定要的咧!這款 光圈純棉雙面寬浴墊,採用100%高品質純棉,讓腳底立即體驗柔軟觸感,搭配清新典雅的色彩,可說是居家生活不可缺少的家飾紡織品;質感舒適柔軟,吸水性超強,在沐浴完後,可迅速吸收腳底水珠,保持地面乾爽,避免因水滴而滑倒;大版面的普普風圖騰,獨特的設計風格,典雅中又帶點活潑俏皮的趣味,適合置於浴缸前或浴室門口,亦可當做傢俱或家中擺飾品之隔離墊使用,避免刮損木質地板;超便利的清洗方式只要放入洗衣機水洗輕鬆又省事喔!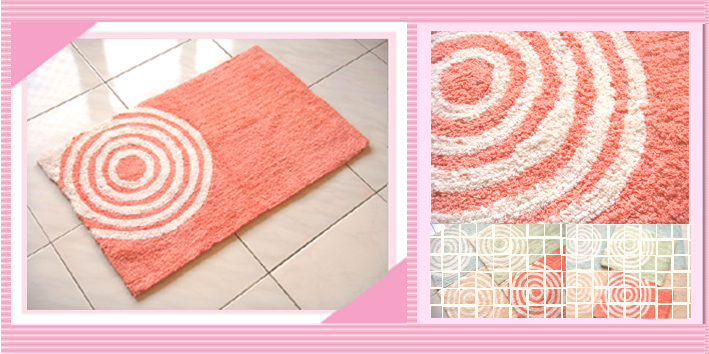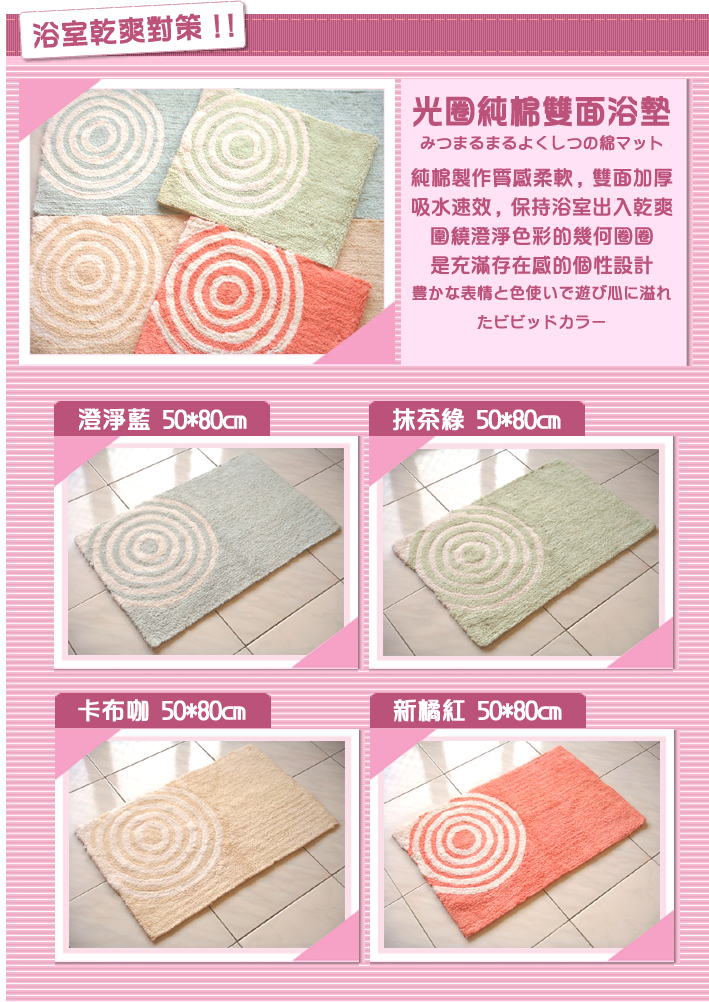 ◆產品規格:
.產品內容─踏墊x1
.材質─100%COTTON(純棉)
.尺寸─50x80cm
.數量─1入
.顏色─如產品圖示,網頁圖片因拍攝與螢幕設定之故,與實品略有差異,實際顏色以出貨為主
.清洗方式─可機器水洗(請以弱速處理,並縮短洗滌行程)/自然風乾,勿使用烘乾機熱烘
◆此商品圖為參考用之情境圖示,產品內容以規格敘述內容為準。
本商品規格

因為此款純棉踏墊採100%天然棉花,手感細緻織法細密、吸水力強,初期使用多少會產生棉絮,第一次下水會有少許棉絮浮於水上為正常現象。 建議可用吸塵器吸取多餘棉絮,或以清水清洗,掉棉絮情況可有效減少! (另提醒:清洗時,水溫勿高於40度,勿烘乾與熨燙)
| Zone | Order Total (RM) | Delivery Fee (RM) |
| --- | --- | --- |
| MY | Below 88.00 | 19.00 |
| | Above 88.00 | FREE |
Shipping Info
Order process take 4~7 days, and international shipping will take about 10~14 days

Important Notification:
1. PChomeSEA acts as a buying agent and does not provide product warranty.
2. Please check whether product specs (including voltage, plug type, frequency, etc.,) applys in your country.