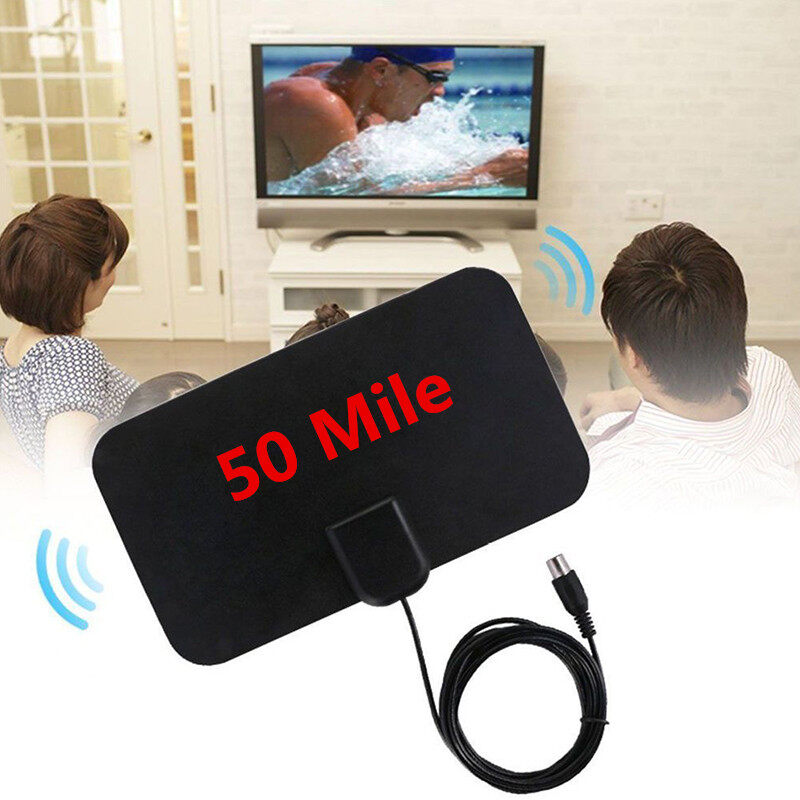 What's in the box:
Default
Description:
Item type: HDTV Antenna/p>
Compatible with 720p, 1080i, 1080p/ ATSC
Operation Temperature : -45 ~ 85C
Connectors : TV Male
Impedence : 75
LNA Gain : 25dB
Reception Range: 50 miles
Cable: 1.5C-2V
Polarization: Linear
VSWR : 1.5
Storage Temperature : -45 ~ 85C
Working Frequency : VHF(172-240Mhz)/UHF(470-860Mhz)
Size: 120*210*0.6mm
Features
-- High quality material
-- Extremely easy to use
-- delivering full 1080p HD to any digital-ready TV
Package includes:
1 x HD Digital TV Antenna Receiver
1 X Adapter
Notes:
1-2cm error might exist due to manual measurements, please kindly understand. The colors deviation might differ due to different monitor settings.
We provide you with the best product and service. If you have any problem, please let us know, and we will solve the problem ASAP. Thank you so much.
| Zone | Weight | Delivery Fee (RM) |
| --- | --- | --- |
| West Malaysia | First 2.00 kg | 7.00 |
| | Extra 1.00 kg | 1.00 |
| East Malaysia | First 1.00 kg | 12.00 |
| | Extra 1.00 kg | 2.00 |
| Australia, New Zealand | First 0.50 kg | 56.56 |
| | Extra 1.00 kg | 48.10 |
| Austria, Denmark, Finland,Mexico,Ireland, Switzerland | First 0.50 kg | 58.82 |
| | Extra 1.00 kg | 40.91 |
| Brunei, Cambodia, Laos | First 0.50 kg | 51.01 |
| | Extra 1.00 kg | 51.98 |
| Belgium,France, Germany, Netherlands, Spain, U.K | First 0.50 kg | 64.19 |
| | Extra 1.00 kg | 36.71 |
| China | First 0.50 kg | 42.18 |
| | Extra 1.00 kg | 33.78 |
| Bangladesh,Brazil,Iraq, Pakistan,Qatar, Russia, S.Arabia, UAE | First 0.50 kg | 59.32 |
| | Extra 1.00 kg | 43.21 |
| Ghana, Mongolia,South Africa | First 0.50 kg | 70.68 |
| | Extra 1.00 kg | 61.37 |
| Philippines | First 0.50 kg | 44.79 |
| | Extra 1.00 kg | 33.86 |
| Canada, United States | First 0.50 kg | 60.55 |
| | Extra 1.00 kg | 43.09 |
| Hong Kong | First 0.50 kg | 31.95 |
| | Extra 1.00 kg | 28.42 |
| India | First 0.50 kg | 51.01 |
| | Extra 1.00 kg | 40.15 |
| Indonesia | First 0.50 kg | 51.38 |
| | Extra 1.00 kg | 42.37 |
| Japan | First 0.50 kg | 45.74 |
| | Extra 1.00 kg | 39.48 |
| Macau | First 0.50 kg | 55.46 |
| | Extra 1.00 kg | 38.50 |
| Singapore | First 0.50 kg | 32.83 |
| | Extra 1.00 kg | 26.99 |
| Taiwan | First 0.50 kg | 36.17 |
| | Extra 1.00 kg | 33.20 |
| Thailand | First 0.50 kg | 39.41 |
| | Extra 1.00 kg | 31.73 |
| Vietnam | First 0.50 kg | 60.55 |
| | Extra 1.00 kg | 39.82 |