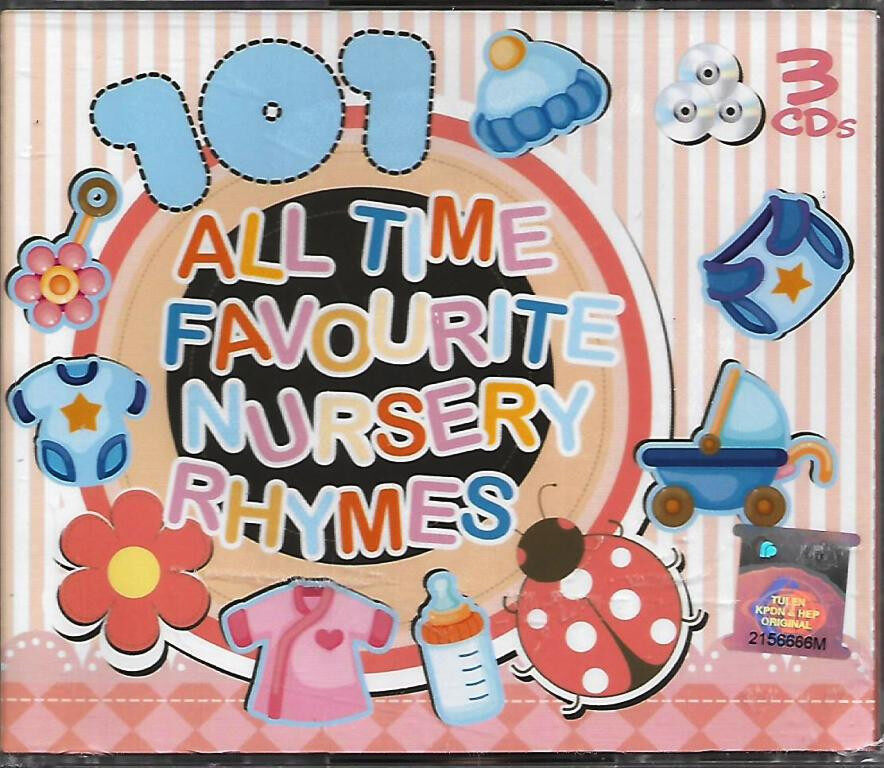 What's in the box:
1 x 101 All Time Favourite Nursery Rhymes 3CD New Born to Preschool
Disc 1
1) London Bridge Is Falling Down
2) Twinkle, Twinkle Little Star
3) Old MacDonald Had A Farm
4) Polly Put The Kettle On
5) Yankee Doodle
6) For He's A Jolly Good Fellow
7) This Is The Way The Ladies Ride
8) The Birthday Song
9) Hickory Dickory Dock
10) The Puppet Show
11) Let's Have A Tea Party
12) I Saw Three Ships
13) Boys And Girls Come Out To Play
14) Six In A Bed
15) Bye Baby Bunting
16) Hot Cross Buns
17) Little Jack Horner
18) Little Miss Muffet
19) Lucy Locket
20) Three Little Kittens
21) Little Bo Peep
22) Oh Where, Oh Where Has My Little
Dog Gone
23) See-Saw Margery Daw
24) How Many Miles To Babylon
25) John Brown's Baby
26) Do You Ken John Peel?
27) Polly Wolly Doodle
28) Let's Play Dressup
29) Cockles And Mussels (Molly Malone)
30) Hey! Diddle, Diddle
31) The Old Grey Mare
32) Aiken Drum
33) Winkum Winkum
34) Little Boy Blue
Disc 2
1) Baa-Baa Black Sheep
2) Jack And Jill
3) This Old Man (Knick-Knack Paddy Wack)
4) Skip To My Lou
5) Frre Jacques
6) Rock-A-Bye-Baby
7) Row, Row, Row Your Boat
8) Pop Goes The Weasel
9) Sing A Song Of Sixpence
10) The Muffin Man
11) There's A Hole In My Bucket
12) Waltzing Matilda
13) Take Me Out To The Ballgame
14) Daddy Wouldn't Buy Me A Bow-Wow
15) Skye Boat Song
16) Daisy, Daisy
17) I'm H-A-P-P-Y
18) Smile
19) God Bless The Moon
20) Rub-A-Dub Dub Three Men In A Tub
21) This Little Pig
22) It's Playtime
23) Lullaby And Goodnight
24) The Grand Old Duke Of York
25) Oh Dear What Can The Matter Be?
26) How Much Is That Doggy In The Window?
27) Michael Finnigan
28) The Farmer In The Dell
29) I Had A Little Nut Tree
30) Peas Pudding Hot
31) Oranges And Lemons
32) Cock-A-Doodle-Doo
33) The Big Ship Sails On The Ali-Ali-O
34) Simple Simon
Disc 3
1) Eensy Weensy Spider
2) Humpty Dumpty
3) Bingo
4) Here We Go 'Round The Mulberry Bush
5) Ring-A-Ring-A Roses
6) Hush Little Baby
7) My Bonnie Lies Over The Ocean
8) Mary Had A Little Lamb
9) Three Little Pigs
10) Pat-A-Cake, Pat-A-Cake
11) Tom, Tom The Piper's Son
12) Lavender's Blue
13) London's Burning
14) Five Green Bottles
15) On Top Of Old Smokey
16) Ride A Cock-Horse To Branbury Cross
17) To Market, To Market
18) There Was A Crooked Man
19) I've Been Working On The Railroad
20) T'was On A Monday Morning
21) One Man Went To Mow
22) The Grandfather Clock
23) The North Wind Doth Blow
24) Bobby Shafto
25) Here We Go Looby-Loo
26) She'll Be Coming 'Round The Mountain
27) A Tisket, A Tasket
28) Bluetail Fly (Jimmy Crack Corn)
29) Billy Boy
30) Home On The Range
31) The Yellow Rose Of Texas
32) Do Your Ears Hang Low?
33) There Was A Bee-i-ee-i-ee
- 100% Brand New And Sealed unless otherwise stated.
- Locally pressed items are produced by govt certified licensed manufacturer with hologram sticker and b-cert(DVD).
- Imported items are new and sealed with limited quantity in hand.
Remarks : All orders are on first come first serve basis as we sell on multiple marketplaces locally as well as internationally, therefore, order may subject to cancellation (refund will be made) or waiting for replenishment when stock has become unavailable.
| Zone | Weight | Delivery Fee (RM) |
| --- | --- | --- |
| West Malaysia | First 0.50 kg | 8.00 |
| | Extra 0.50 kg | 2.00 |
| East Malaysia | First 0.50 kg | 13.00 |
| | Extra 0.50 kg | 3.00 |
| Hong Kong | First 0.60 kg | 50.00 |
| | Extra 0.10 kg | 5.00 |